Earlier this month, a crowd of some 150 people gathered at Politics & Prose in Washington, D.C., for a discussion featuring six nonfiction picture-book creators, moderated by children's literature historian Leonard S. Marcus. It was the second picture book panel convened by P&P's Mary Alice Garber.
Marcus opened with a brief history of children's nonfiction in America. In the 1950s, he explained, Congress appropriated money to teach science and math (the result of a Cold War mindset that feared the Soviet Union would excel in these areas), bringing a surge of nonfiction for children. But a 1976 Horn Book article, "Where Do the Prizes Go?" by Milton Meltzer, exposed the biases of the Newbery and Caldecott committees: committee members were not considering nonfiction contenders, and Meltzer had the statistics to prove it.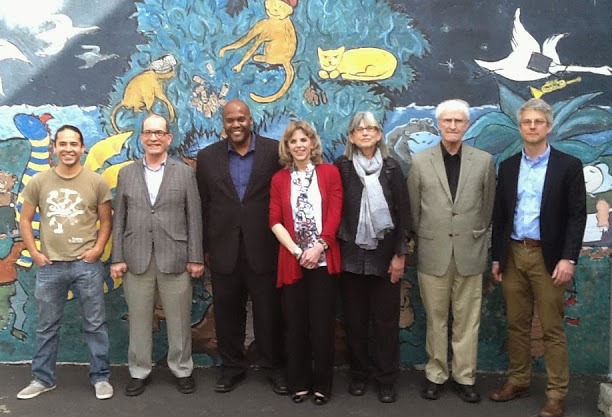 L. to r.: Duncan Tonatiuh, Leonard S. Marcus, R. Gregory Christie, Jen Bryant, Susan L. Roth, Richard Jackson, Brian Floca
With the prevalence of the Common Core Standards and their emphasis on nonfiction materials, Marcus suggested, the pendulum may be swinging in nonfiction's favor.
Brian Floca, four-time Sibert honoree (given for "the most distinguished informational book[s]" by ALA) and winner of the 2014 Caldecott Medal, said he didn't realize he was creating nonfiction books until he started winning awards for them. "I was unaware of the fiction/nonfiction divide, and even how they're shelved differently in stores," he admitted. "I always just focus on making the best picture book I can." He conceded, however, that nonfiction "demands tricky things of you." For his Caldecott Medal–winning Locomotive, he envisioned the story of one train crew crossing the country. But he discovered that the crew of a transcontinental train would change several times over the course of the trip. "I couldn't just have the crew decide, 'What the heck--let's keep going,' " said Floca. In the resulting book, the star of the story is the train itself.
Another challenge can arise when the facts veer in a direction that may not work for a child audience, pointed out Susan L. Roth, co-author (with Cindy Trumbore) and illustrator of the 2014 Sibert winner Parrots over Puerto Rico. "At one point, there were 11 parrots left. And people ate those parrots," she said. Both facts made it into the book, but Roth was careful to keep the story hopeful and positive.
Duncan Tonatiuh, author and illustrator of the 2014 Pura Belpré Honor book Pancho Rabbit and the Coyote, said he struggles not to weigh down a story with extraneous facts. His most recent book, Separate Is Never Equal, centers on Sylvia Mendez, born of Mexican parents, who successfully integrated a California elementary school seven years before Brown v. Board of Education. In researching this story, Tonatiuh discovered that Mendez lived in a house vacated by a Japanese family that had been forced into an internment camp. To keep the picture book focused, he left out that information.
Marcus compared nonfiction writing to "packing a suitcase, or writing poetry." Jen Bryant, author of the 2014 Sibert Honor book A Splash of Red (illustrated by Melissa Sweet) concurred, saying her immersion in the world of the poet William Carlos Williams (for A River of Words, also illustrated by Sweet and a Caldecott Honor book) helped her write simple, accessible text. She uncovers far more information than makes it into the book, but "if you slosh around in the material long enough, [the facts] tell you where to focus."
Legendary editor Richard Jackson (who worked with Floca on Locomotive) steered the conversation toward illustration, noting that nonfiction often inspires powerful artwork. Jackson added, "Having an actual person to illustrate is a great place to start a book." R. Gregory Christie, illustrator of Vaunda Micheaux Nelson's Bad News for Outlaws (about Deputy U.S. Marshal Bass Reeves) and No Crystal Stair (also by Nelson) agreed, but noted that that can be limiting. Though he often begins with a photograph, Christie said, "At some point, I have to throw the photograph away, because it becomes confining. I need to get rid of it before I can mess with color, form, shape and proportion. All of these things affect mood, and mood is extremely important when you're creating a book for children."
For Separate Is Never Equal, Tonatiuh drew on styles employed by Mixteca (an indigenous group in modern-day Mexico) artists to achieve a flat, geometric composition that he describes as "ancient-looking and highly stylized." Floca also pointed out that a drawing can sometimes help readers understand the mechanics of, say, a steam engine, better than a photograph could. By drawing the machinery about which he writes, he also forces himself to truly understand it.
One audience member thanked Christie for his work on Bad News for Outlaws. "I'm an adult, but you educated me," the man said. "It was so important to me, in this case, that an illustrator was also a historian." Christie responded, "I don't believe you have to pigeonhole books into fiction or nonfiction, kids or adults. I really believe you can do a book about anything." --Allie Jane Bruce, children's librarian, Bank Street College of Education (and former bookseller at Politics and Prose)