"I have come to think that soccer lends itself to great writing because it thrives in the imagination, like so much of life. Great writers put themselves into the possibilities of the sport--pondering." --George Vecsey, Eight World Cups: My Journey Through the Beauty and Dark Side of Soccer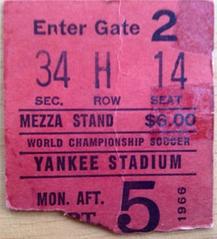 The World Cup began yesterday and I must write about it. I don't mean I've been assigned to; I feel compelled. My connection to the beautiful game dates back nearly half a century to when I played in high school and college, as well as in summer leagues on teams that included Italian and Polish marble mill workers. In 1966, our high school coach took a few of us to Yankee Stadium, where we joined nearly 42,000 fans to watch the incomparable Brazilian legend Pelé and his Santos team beat Inter Milan of Italy 4-1 in an exhibition game.

American fans have taken some heat recently for their dubious "soccer snobbery" and "elaborate affectation," but I think my soccer street cred is still intact. I've loyally rooted for England (my team of choice and of ancestral heritage) since they won in 1966, though I never worry about using the terms soccer, game, field or uniform instead of football, match, pitch or kit; and I don't wear a team scarf.

Thus, from my little corner of the world's most popular sport, I offer a decidedly bookish, American take on the beautiful game. Here's what I've noticed lately: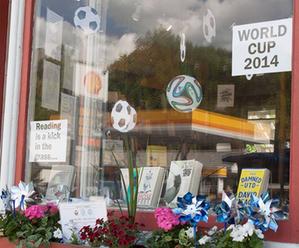 There's a World Cup window display at the Book Nook, Ludlow, Vt.; and Powell's Books, Portland Ore., is having a 30% off sale on soccer titles.

Three Percent's World Cup of Literature is underway, pitting "representative books from all 32 World Cup qualifying countries against one another in a single-elimination tournament."

You can also back your favorite country's writers in the Penguin Cup. On being named to England's team, Fever Pitch author Nick Hornby commented: "My proudest moment in football and literature. I worry about this team, though. I know for a fact that Zadie has no left foot, and I'm worried that Austen won't give me the protection I need if their left winger has pace. Christie is prolific, though."

"For whom did Arthur Conan Doyle play football in the late 1880s?" This was one of the questions in the Guardian's football in fiction quiz.

"What if writing was like World Cup soccer?" asked Merritt Tierce in an Electric Literature piece headlined "Writers' World Cup."

"The run-up to every World Cup in recent memory has brought a deluge of books," the New York Times noted. "What began as a trickle after the new year has grown to the point where bookcases are groaning under the weight."

BBC offered a "book lover's guide to Brazil," featuring some of the host country's "eloquent and original literary voices."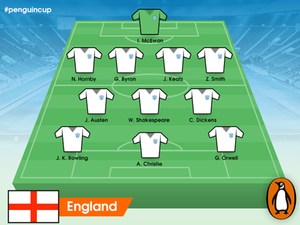 In writing about Alex Bellos's revised and updated edition of Futebol: The Brazilian Way of Life, Jon Michaud in the New Yorker noted that an entire chapter is devoted to Aldyr Garcia Schlee, the designer of Brazil's signature uniform who "went on to become a journalist, university professor and novelist."

Ah, England. British player Frank Lampard, who has written several Frankie's Magic Football children's books, was asked whether he would write another one if England wins. "I have already written Frankie and the World Cup Carnival, but I would be happy to write another one IF we actually won it!"

Reality check: The Seminary Co-op Bookstores in Chicago linked to an Economist article recommending three new books about the host country and pointing out that "holding the World Cup in Brazil, football's spiritual home, sparked many fantasies of samba-infused spectacle. Those illusions were shattered last June when protests swept across the country during a warm-up tournament; a year on the discontent still simmers."

Writing for ESPN FC, Nick Hornby observed that the "smell of money around this World Cup is more unpleasant and more distracting than it has ever been.... Perhaps we are foolish, naive and self-deluding, those of us for whom the World Cup is an event that results in the glorious suspension of ordinary life for the best part of a month... But in an odd sort of way, everything that is so despicable about the contemporary game is a tribute to its power and continuing appeal."

Why did I feel compelled to add my thoughts to the World Cup frenzy? Maybe it's as simple as the recollection of a precise moment during the Summer of Love in 1967, and the sound of the ball when I caught it just right with my instep on a corner kick and sent it arcing toward the crowded goal area, as if tossing chum into a pool of sharks. One of my teammates executed a perfectly timed leap above the roiling surface to meet the ball, and just a flick of his head sent it to the upper right corner of the goal, beyond the outstretched arms of a desperate keeper. Then the celebration erupted with almost unbridled joy and (for just an instant, in Hornby's "odd sort of way") with love... for the beautiful game. --Robert Gray, contributing editor

Editor's note: Stay tuned for more World Cup book coverage from soccer editor George Carroll in today's edition of Shelf Awareness for Readers.