This Friday, Yooree Losordo will open On the Dot Books & More, a book stall at her local farmer's market in Dorchester, a neighborhood of Boston, Mass., that some residents call "the Dot." The book stall, Losordo said, is a prelude to opening a full-fledged store in the same neighborhood.


"Between inventory and fixtures and everything else, it's just so expensive to open a new store," explained Losordo. She doesn't expect to open a bricks-and-mortar store for at least 18 to 24 months. "We're hoping that before we open, we'll have already built up a huge local following."

In addition to the farmer's market book stall, which will carry mainly cookbooks, food-related memoirs and children's books about food and cooking, with some bestsellers thrown in, Losordo plans to have an Indiebound e-commerce site up and running by the end of the summer. In the fall, she wants to partner with local businesses with overlapping customer bases, such as gardening stores, craft stores, cafes and the like, and provide curated book displays. She is partnering with local artists as well as, and her first such partnership is with an artist and author named Abbie Wanamaker; postcards featuring Wanamaker's artwork will be on sale at the On the Dot stall. She also hopes to do readings and author events at venues around Dorchester, and this fall she'll launch a books and culture podcast.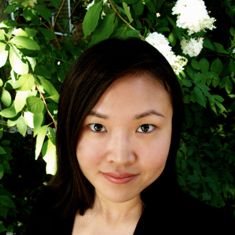 On the Dot's Losordo
"The idea is to be a fully functioning bookstore, without a store," Losordo said.
Bookselling--and for that matter working in retail--is a departure for Losordo. For the past four years, she has been a stay-at-home mom, and prior to that, she had a career in pharmaceutical marketing. The interest in bookselling came when she enrolled in an entrepreneurship program; the program required participants to have a business in mind when they enrolled, and Losordo chose a bookstore.

"I said I wanted to start a bookstore, and at first I just wanted to go through the intellectual exercise," Losordo recounted. But as she progressed through the program and did more research, opening a store seemed both increasingly more viable and more desirable. In short: "I fell totally in love."

She attended BookExpo America in New York last month, and is a member of the American Booksellers Association. And on Thursday, her entrepreneurship program will culminate with a pitch contest, with the winner receiving $5,000. "It's a drop in the bucket for opening a store," said Losordo, "but it's a good chunk of change for a stall."

Although opening a physical store is a long way off, Losordo does have a general location in mind: the Adams Village area of Dorchester, near the Ashmont Station, a stop on the Massachusetts Bay Transportation Authority's Red Line. Near the station are several popular restaurants--a bricks-and-mortar store with frequent events could help the area build a vibrant nightlife.

Losordo is only just beginning to reach out to the community and build a following, but already, she said, "people are so enthusiastic." --Alex Mutter