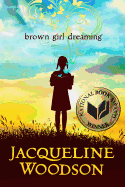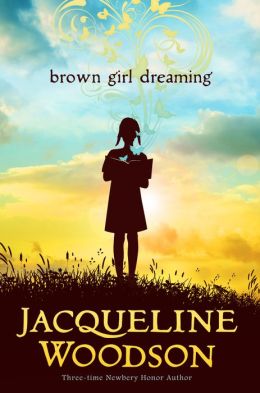 In Jacqueline Woodson's (Locomotion; Feathers) inspired new memoir, told entirely in verse, the author brings readers into her family's most intimate moments. She begins with her birth in Columbus, Ohio, in 1963 and continues through the North and the South in the 1960s and 1970s.
After her parents' separation, Jacqueline's mother moves her to her own girlhood home in Greenville, S.C., along with her older siblings: her quiet, shy big brother, Hope, and brilliant big sister, Odella. Life in South Carolina is filled with wonder, faith, family and laughter. Even after Jacqueline's mother journeys to New York City to begin a life in anticipation of sending for the children soon, Jacqueline and her siblings adjust and find love and comfort despite missing their mother. When Jacqueline's mother returns for them, she has found them a home in Brooklyn and tells them of another surprise: a new baby, "Still in her belly but coming soon." Woodson delicately weaves into these familial stories her own path to becoming a writer, painting them into the context of historical events that simmer alternately in the background and foreground: the Civil Rights movement, the Vietnam War and the Black Panthers. "This is the way brown people have to fight," her grandfather tells her during the Greenville sit-ins, "You can't just put your fist up. You have to insist/ on something/ gently. Walk toward a thing/ slowly./ But be ready to die,/ my grandfather says,/ for what is right."
Brown Girl Dreaming offers readers an accessible, first-hand look at African American childhood in both the North and South during decades of tremendous turmoil and change. Woodson records her careful observations like a child who's trying to make sense of the things she's witnessing: her neighbor Miss Bell opening up her living room for sit-in training and march planning; her grandmother avoiding the five-and-dime, "where a woman is paid, my grandmother says,/ to follow colored people around in case they try to/ steal something." The form may make the timeline confusing at a couple of points for some readers but, overall, it serves Woodson well in keeping the tone of the book authentic and keeping her audience in the moment.
Readers will appreciate the breadth of Woodson's experiences and her observations. From the wonder of a beloved grandmother's kitchen to the comfort of the front stoop of a friend's house, Brown Girl Dreaming successfully transports readers from Columbus to Greenville to Brooklyn, to experience childhood-defining moments. Woodson's beautiful words and fantastic characterization make this story a true gem. --Kyla Paterno, trade book buyer and blogger, Garfield Book Company at PLU
Shelf Talker: This poetic memoir describes growing up in the 1960s and 1970s in the North and the South, and how these turbulent times shaped a young woman and a budding writer.