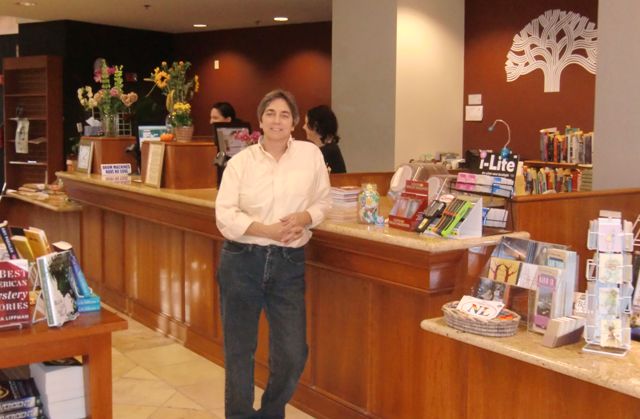 Luann Stauss at the new Laurel Book Store.
Oakland, Calif., a place that has long welcomed creative citizens and businesses--partly due to its location across the Bay from a city with some of the highest rent prices in the country--is enjoying a book boom. Laurel Book Store, which had been in the city's Laurel district for 13 years, recently moved to a new location in downtown Oakland, into a space four times the size of the original store. It was time to expand, said owner Luan Stauss, and the store's new landlord, the city of Oakland, could not have been more welcoming, offering six months' free rent and a dollar-for-dollar match on the $30,000 capital improvements the store made to renovate the former bank space. Laurel Book Store re-opened at the end of October in a flatiron-style building on Frank Ogawa Plaza, across from City Hall and on the BART transit line.
Across the Plaza, another book neighbor, Berrett-Koehler Publishers, moved to an expansive, open-space top-floor office suite from the wood-paneled space it had occupied in downtown San Francisco for much of its 22-year-history.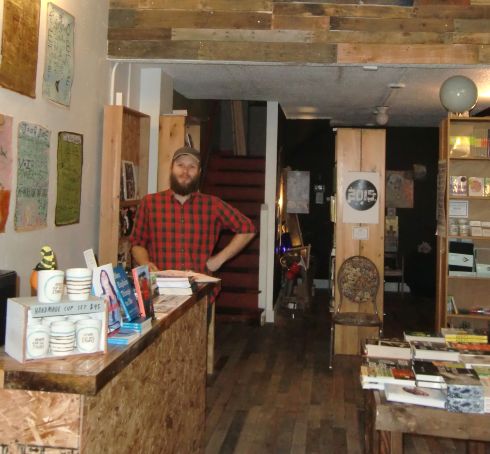 Justin Carder at E.M. Wolfman
Around the corner, across from the iconic Oakland Tribune building, a 700-square-foot boutique called E.M. Wolfman General Interest Small Bookstore, with an emphasis on small press titles and an art gallery space, opened in April. Wolfman owner Justin Carder, former SF bookseller and director of publishing for the writing-tutoring nonprofit 826 Valencia, said he was excited to have new book neighbors. "The more the merrier," he said.
Oakland elected a new mayor last week, but many credit the revival of its downtown to Jerry Brown, who, as mayor in the late 1990s, instituted the "elegant diversity plan" that was designed to bring in more than 10,000 new residents to support more businesses. It has been more than 20 years since downtown Oakland had a bookstore selling predominantly new books, and Hut Landon, executive director of the Northern California Independent Booksellers Association, sees the recent openings as "the story of two revivals."
The Oakland boom, Landon pointed out, is an example of the independent bookstore renaissance across the country in recent years. "Part of it"--as was the case with Laurel Book Store--"is that landlords are saying, 'yes, an independent bookstore is a viable business I want to give a lease to.' " And, Landon noted, Stauss has a solid bookselling track record in Oakland.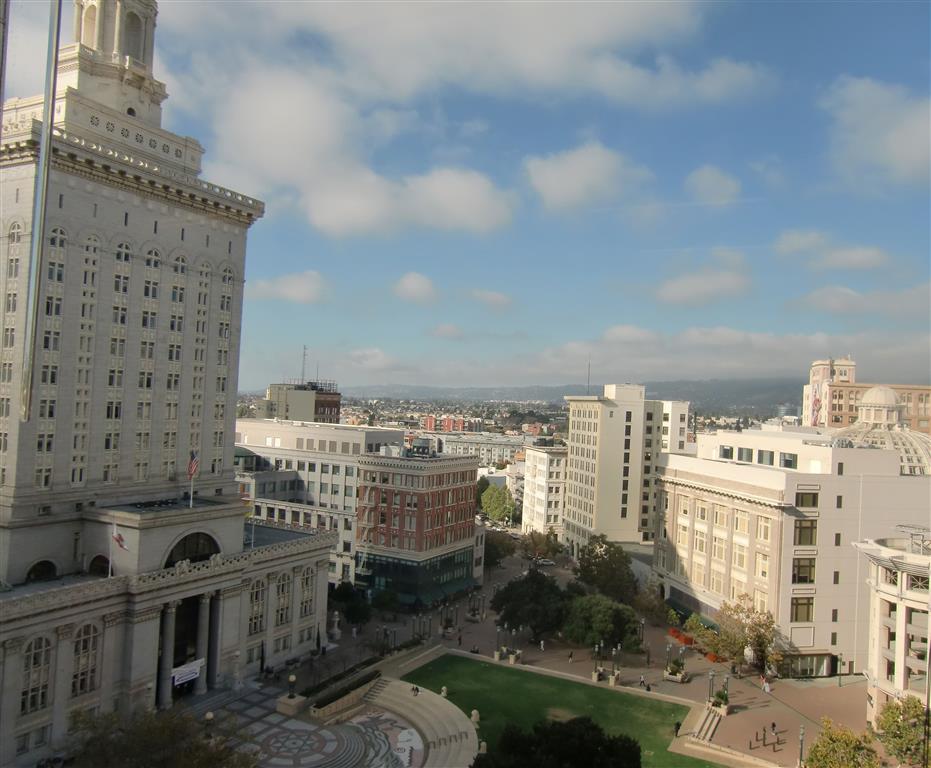 The view from Berrett-Koeler's new offices.
Laurel Book Store is out of the picture, to the right, across Frank Ogawa Plaza.
John Evans, co-owner of Diesel, a Bookstore, which celebrated its 25th birthday this fall at a lavish party in the store it has occupied in the Rockridge section of Oakland for 20 years, has watched several of the city's neighborhoods blossom with independent businesses. "Ideally, you end up with a great bookstore in every neighborhood," he said. Rockridge--which is also home to Pegasus Books--is about to welcome an independent hardware store on College Avenue. "These are the kinds of businesses that really create and ground the neighborhood," Evans said.
Elsewhere in Oakland, more bookstores have flourished. Up in Montclair Village--a section of the city tucked just under the famous hills--A Great Good Place for Books has firmly established itself as an anchor in the shopping district. And in the Grand Lake area--named for a historic movie theater near the city's Lake Merritt--Walden Pond Books has added substantially more new books to its mostly used inventory. There is also a brand-new, one-day Oakland Book Festival in the works for next May; the organizers are reaching out to booksellers and other literary organizations to participate.
Back in the city center, Stauss is happily discovering that she still sees many of her Laurel district customers who work downtown, and is meeting locals eager to browse both her larger general bookstore and Wolfman's small shop. Laurel is planning a lunchtime event series and Wolfman just started an after-work book club.
About the only thing Oaklanders do not like about the cultural boom is the media's insistence on comparing Oakland to another city across water from a literary giant. But Evans flipped the comparison on its head, as befits the proud resident of a city with a strong history all its own: "I've always said Brooklyn is Oakland East." --Bridget Kinsella