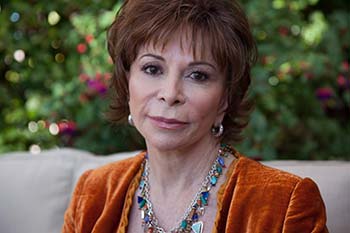 Isabel Allende is one of 19 people named by President Barack Obama to receive the nation's highest civilian honor, the Presidential Medal of Freedom, which is presented to "individuals who have made especially meritorious contributions to the security or national interests of the United States, to world peace, or to cultural or other significant public or private endeavors."

Also being honored are Tom Brokaw, "one of America's most trusted and respected journalists" and author of five books, including The Greatest Generation; and Marlo Thomas, "an award-winning actress, producer, bestselling author [Free to Be You and Me] and social activist."

President Obama observed that "these citizens have made extraordinary contributions to our country and the world." This year's recipients will be celebrated at the White House November 24.

Allende was praised as "a highly acclaimed author of 21 books that have sold 65 million copies in 35 languages. She has been recognized with numerous awards internationally. She received the prestigious National Literary Award in Chile, her country of origin, and is a member of the American Academy of Arts and Letters."

On Twitter, Allende wrote: "I am honored to receive the Presidential Medal of Freedom. Obama himself will present it!"