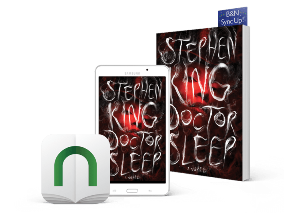 B&N's Nook Media has launched B&N Sync Up!, an in-store program that bundles printed books and e-books: during the holiday season, customers at B&N stores can buy paperbacks from "a specially curated selection" and buy the digital version of the same book for $4.99. The e-book version can be read on any Nook device and on many smartphones and tablets via the free Nook reading app.
Customers can have the offer activated at checkout in the store, where they receive an access code on their receipt. They also have the option of having the code printed on a gift receipt or e-mailed to them. To redeem the offer, customers or gift recipients can visit BN.com/redeem, enter their code and download the digital edition.
Among titles included in the program: Doctor Sleep by Stephen King, Outlander (Outlander Series #1) by Diana Gabaldon, The Secret Life of Bees by Sue Monk Kidd, The Kite Runner by Khaled Hosseini, Life of Pi by Yann Martel and more.