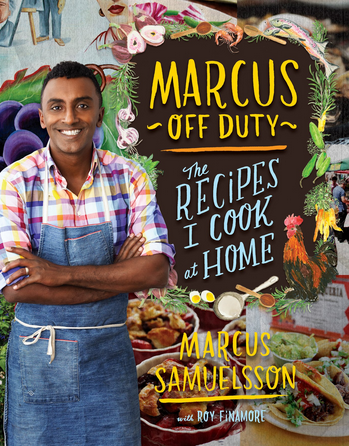 What does celebrated chef Marcus Samuelsson make for his nearest and dearest? Marcus Off Duty: The Recipes I Cook at Home presents a plethora of dishes reflecting the flavors he has experienced in his travels--Ethiopian, Swedish, Mexican, Caribbean, Italian and Southern soul. His eclectic, casual food includes dill-spiced salmon; coconut-lime curried chicken; mac, cheese and greens; chocolate pie spiced with Indian garam masala; peanut noodles with slaw (kids love this one); and many more.
Samuelsson is the owner of Red Rooster restaurant in Harlem in New York City. He is the youngest chef ever to receive three stars from the New York Times, a five-time James Beard Award recipient, a winner of Top Chef Masters and a judge on Chopped. Among his many other accomplishments, he was the guest chef for the first state dinner hosted by President Obama.
On your nightstand now:
I always read Charles Blow's pieces in the New York Times, so I was really excited to see that he has a memoir out, Fire Shut Up in my Bones. It was given to me as a gift, and I just can't put it down. He is an amazing writer.
Favorite book when you were a child:

Pele: The Autobiography. As a kid, I thought I was going to be a professional soccer player so I really tried to absorb as much of that world as I could.
Your top five authors:

Astrid Lindgren, Bob Marley, Ruth Rogers and Rose Gray (for The River Café Cookbook), Gabrielle Hamilton, Langston Hughes. This is a wide mix of writers, but it shows my favorites. A little food, a little music, a little New York, a little Harlem, a little Sweden. They all capture a time and a place, a taste or feeling so well.

Book you've faked reading:

My physics textbook book in high school. Science wasn't my favorite subject (despite my father being a geologist,) so I definitely faked my way through a few of these.

Book you're an evangelist for:

Alex Haley, The Autobiography Malcolm X. I think everyone should read this book. The articulation of blackness in this book is so distinct, and there really is no more powerful voice in black America.
Book you've bought for the cover:

Marco Pierre White's White Heat. Although I love the inside as much as the cover, the cover was definitely what captured my interest first.

Book that changed your life:

Charlie Trotter's first cookbook, Charlie Trotter's. I honestly didn't think it was possible for someone in the Midwest to be making the kind of food he was making. His recipes were so intricate and special and worldly, which at that time was unheard of from an American chef.

Book you most want to read again for the first time:

Astrid Lindgren books from my childhood. They are all so positive, fun and adventurous. They really entice the imagination and never get dull.