At a gala dinner held last night in New York City, the book industry celebrated books and the National Book Awards. The winners were:

Fiction: Redeployment by Phil Klay (The Penguin Press)
Nonfiction: Age of Ambition: Chasing Fortune, Truth, and Faith in the New China by Evan Osnos (Farrar, Straus & Giroux)
Poetry: Faithful and Virtuous Night by Louise Glück (Farrar, Straus & Giroux)
Young people's literature: Brown Girl Dreaming by Jacqueline Woodson (Nancy Paulsen Books/Penguin)

All the winners were present and spoke. Phil Klay started off saying, "I know there's a least one Marine in the audience. Some backup? Just two of us? We can take them."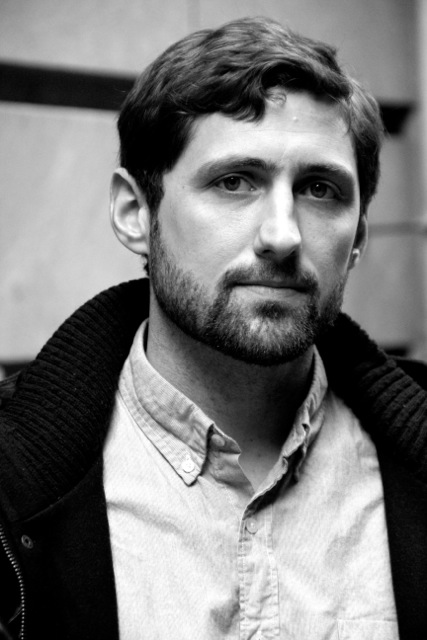 Klay
After his 13 months in the Marines in Iraq, Klay said, "I came back not knowing what to think about so many things. What do you do when you're struggling to find the words to explain to the father of a fallen Marine exactly what that Marine meant to you? What do you do when one of your best Marines calls you to tell you he's been drinking too much and he feels isolated at college surrounded by 18-year-olds he can't make sense of and who can't make sense of him? What do you make of it when the middle school students you're teaching ask you if you've killed anyone and are horribly disappointed when you say no? What do you do when strangers at a bar insist on treating you as though you must be psychologically damaged just because you're a vet or when friends of yours do indeed have post-traumatic stress and find that they can't express their feelings of grief and rage about what has happened and continues to happen overseas and at home?

Saying he didn't have the answers to these questions, he called Redeployment "the only way I knew how to start thinking them through.... War is too strange to be processed alone and so I want to thank everyone who picked up the book, read it and decided to join the conversation."

Evan Osnos noted that he comes from "a family of the book." (His parents, Peter Osnos, founder of PublicAffairs, and Susan Osnos, were present and cheering him on.) Osnos continued: "If you go into the writing business and your name is Osnos, you feel a little like what George W. Bush must feel like."

Among others, he thanked "the people in the pages of this book, who allowed me into their lives in a way that is amazing. They live in a place where it's very dangerous to be honest and be vulnerable, and they allowed me to write about them."

Louise Glück called it "a very difficult evening. It's very difficult to lose. I've lost many times. And it also turns out it's very difficult to win. It's not in my script. My work would not exist without the work of other finalists and my colleagues in poetry who more times than I can say have astonished me and moved me and filled me with the envy that in time becomes gratitude."


Woodson
Among others, Woodson thanked the other finalists in the young people's literature category, saying, "I love you guys, and I love how much love there is in world of young adult and children's literature and how much deep respect we have for each other and how much we know that the world wouldn't be complete without all of our stories in it."

In accepting the Medal for Distinguished Contribution to American Letters, Ursula K. Le Guin said she was sharing the award "with all the writers excluded from literature for so long--my fellow authors of fantasy and science fiction, writers of the imagination, who for the last 50 years watched the beautiful awards go to the so-called realists. I think hard times are coming when we will be wanting the voices of writers who can see alternatives to how we live now and can see through our fear-stricken society and its obsessive technologies to other ways of being and even imagine some real grounds for hope. We will need writers who can remember freedom--poets, visionaries, the realists of a larger reality."

She added: "Books are not just commodities. The profit motive is often in conflict with the aims of art. We live in capitalism, its power seems inescapable--so did the divine right of kings. Any human power can be resisted and changed by human beings. Resistance and change often begin in art and very often in our art, the art of words."

Accepting the Literarian Award, Kyle Zimmer of First Book said that her organization believes that "books are the most powerful force in the universe, and history supports us. This power is was why it was illegal to teach slaves to read. It is why oppressive regimes have burned books. And today it is why girls are tortured and shot when they attempt to attend school."

She noted, too, that the situation is dire: "45% of our children are now being raised in homes that are termed poor or near poor. 45% of our kids are largely being excluded from the power of books, and the results of this failure are unmistakeable. 80% of 4th graders from low income families read below proficiency.... McKinsey & Company has reported that our failure to elevate education for children in need results in the economic equivalent of a permanent recession."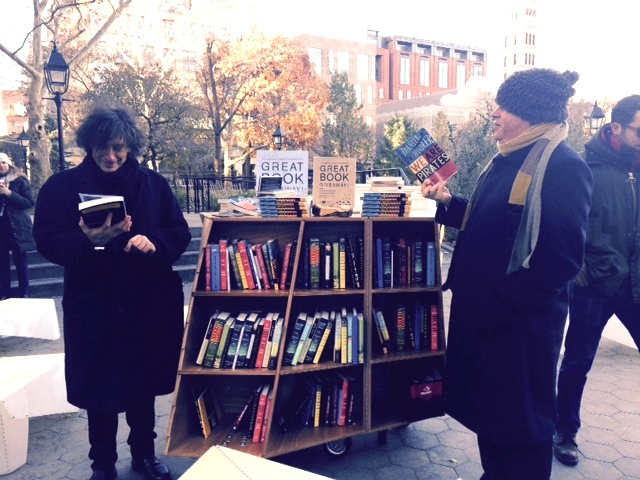 Preparing for last night's NBA ceremony, Neil Gaiman and Daniel Handler competed to see who could hand out the most books in Washington Square Park.
There were several Amazon jokes and observations: early in the evening, host Daniel Handler, aka Lemony Snicket, quoted several fictional missives from people unable to attend, including, "Jeff Bezos says allow me to offer my support and enthusiasm for all the publishers. Just kidding. You're going down. I'm going to slaughter you all. Wahaha." Later, he added, "If you're a publishing house not interested in making a profit, please see Jeff Bezos after the show."

In his comments, National Foundation Chair David Steinberger of Perseus said, "First I have to thank Amazon because thanking them is now one of the terms of my new vendor agreement with them."

In a more serious remark about Amazon, Le Guin said, "We just saw a profiteer try to punish a publisher for disobedience, and writers threatened by corporate fatwa."