Looking ahead to the Winter Institute in Asheville, N.C., we talked with booksellers around the country about the titles and authors featured at the show. Today, we focus on fiction by beloved authors and from new voices. As Mary Williams from Skylight Books in Los Angeles summed up, "The best part of the author portion of WI is coming away knowing about the writers you never heard of before."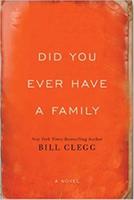 Did You Ever Have a Family by Bill Clegg (Scout Press/Gallery, Sept., $26, 9781476798172)
A lot of the buzz around Bill Clegg centers on whether the literary agent who wrote so boldly about his drug addiction and recovery in the bestselling memoirs Portrait of an Addict as a Young Man and Ninety Days has the literary chops to produce an exceptional debut novel. Early readers of Did You Ever Have a Family agreed Clegg more than hits the mark. The book opens on the eve of a family wedding, when a disaster claims the lives of so many around June Reid--her daughter, her daughter's fiancé, her ex-husband, her boyfriend. Unmoored, June leaves her Connecticut home and drives across country, stumbling upon other heartbroken people in a story that is in its essence a celebration of family--those we are born into and those we create. "From page one it unfolds in the most brilliant way," observed Cathy Langer, buyer at the Tattered Cover in Denver. "This is one I will be able to handsell to any kind of reader."
City on Fire by Garth Risk Hallberg (Knopf, Sept., 9780385353779)
Who in publishing hasn't heard about Garth Risk Hallberg, the NBCC-nominated critic for the Millions who sold his debut novel to Knopf for nearly $2 million? This book was so hot that Random House's Ruth Liebmann said booksellers were asking for galleys at last year's WI. But Hallberg has been kept under wraps for his debut, which has a 200,000 first printing; Asheville will be the first place to grab galleys for this hot book.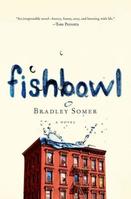 Fishbowl by Bradley Somer (St. Martin's Press, Aug. $24.99, 9781250057808)
While Fishbowl is actually the second novel by Bradley Somer (Canada's Nightwood Editions published his debut, Imperfections, in 2012), St. Martin's is treating the publication of his first book by a big house as a debut--and it has plenty of bookseller buzz already. In Fishbowl, a goldfish named Ian decides it is better to plummet 27 floors outside his apartment building than live in a fishbowl on a balcony ledge forever. The goings-on among the building residents he observes on his way down make for a novel that is no ordinary fish tale. Too gimmicky? Sheryl Cotleur, frontlist buyer at Copperfield's Books, Sebastopol, Calif., did not think so: "It's the perfect mix of whimsical with a great deal of philosophical depth," Cotleur said. "All the things that happen to people in the world happen in one day in an apartment building."
The Sunlit Night by Rebecca Dinerstein (Bloomsbury, June, $26, 9781632861122)
Rebecca Dinerstein wrote the first draft of The Sunlit Night while on post-Yale fellowship in the Norwegian Arctic--which is the setting of her book. Similarly, upon graduating college, Frances, the book's protagonist, decides to accept an apprenticeship at an Arctic artists' colony to escape her complicated New York life, where her parents are getting divorced and her sister is getting married. When Frances arrives she meets the only artist left--a middle-aged descendent of reindeer hunters who specializes in yellow--and bonds with Yasha, an 18-year-old Russian immigrant baker struggling with his father's wish to be buried "at the top of the world." Jonathan Safran Foer called The Sunlit Night "as lyrical as a poem, psychologically rich as a thriller."
The Valley by John Renehan (Dutton, March, $26.95, 9780525954866)
A debut novel by John Renehan, a former U.S. army captain, brings readers into a valley in Afghanistan that has been taken over by the Taliban and into a ragged army unit trying to hold on to its remote outpost there. "It's a war novel," observed Langer, "but it is also incredibly suspenseful and character-driven." As for readers who may shy away from war novels, Langer said, they might be surprised to find themselves tearing through the story as she did.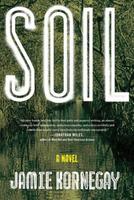 Soil by Jamie Kornegay (Simon & Schuster, March, $26, 9781476750811)
Bookseller Jamie Kornegay's debut novel, Soil, takes place on the Mississippi delta, where the author opened TurnRow Book Company in 2006 after he spent some time working at Square Books in Oxford. In Soil, an environmental scientist moves with his wife and young son to the region in what seems like a progressive agriculturalist's dream come true--until flood and pestilence devastate his farm, his wife moves away with their son, and the discovery--and disposal--of a body on his property are enough to make a maniac out of any honest man. At Asheville's Malaprop's Bookstore/Cafe, general manager Linda-Marie Barrett shared her views on Kornegay's debut: "Just meeting him, I could see how his book could be so dark and so funny at the same time."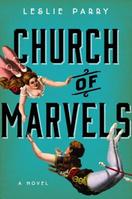 Church of Marvels by Leslie Parry (Ecco, May, $26.99, 9780062367556)
Set in 1895 New York, Church of Marvels is described as "bringing to life the underside of Edith Warton's novels." Parry's cast includes a man who finds an abandoned baby behind a tenement building he cleans; sisters in search of their mother, who raised them while appearing in a Coney Island sideshow called Church of Marvels; and a young woman who awakens in an insane asylum suspecting her mother-in-law is to blame and whose only hope for escape lies with another inmate, a beauty who cannot speak. "A little bit magical," said Langer, "with incredible characters and really carefully plotted."
The Sympathizer by Viet Thanh Nguyen (April, Grove, 9780802123459)
One of the most buzzed-about debuts, The Sympathizer opens as Saigon is falling; the main character is a Viet Cong sympathizer who has the power to get people out--or not. Published to coincide with the 40th anniversary of the fall of Saigon, The Sympathizer is also a story with an unusual point of view into the American immigrant experience. Paul Yamazaki, buyer at City Lights in San Francisco, said he was impressed with the quality of writing and the suspense. "I had the same sense of excitement as when I first read Devil in the Blue Dress," said Yamazaki. "This is really solid stuff."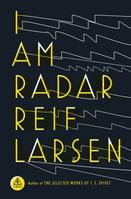 I Am Radar by Reif Larsen (Penguin Press, Feb., $29.95, 9781594206160)
Booksellers will remember meeting Reif Larsen at a previous Winter Institute for his debut novel, The Selected Works of T.S. Spivet; he's back this year for the release of his second, I Am Radar. Radar is a young, love-struck black radio-operator kid who was mysteriously born to and raised by white parents in New Jersey. As the story unfolds, Radar becomes involved with a secret international society of scientists and puppeteers that perform avant-garde shows about particle physics for populations suffering from genocide.
Dietland by Sarai Walker (Houghton Mifflin Harcourt, May, $26, 9780544373433)
"Bridget Jones meets Fight Club"--that's how Dietland, Sarai Walker's debut novel, is being described. Walker was an editor and writer for Our Bodies, Ourselves, and here she turns chick lit on its head with sharp writing reminiscent of adventure novels and a one-of-a-kind, funny, self-deprecating main character.
The Unfortunates by Sophie McManus (Farrar, Straus & Giroux, June, $26, 9780374114503)
A debut about an heiress to a robber baron's fortune, with a biting wit and a generous nature, who tries to stop the financial ruin of her family, which includes a troubled son and his outsider wife. There has been much early buzz from readers who said The Unfortunates is a literary debut that is both funny and heartwarming.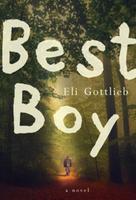 Best Boy by Eli Gottlieb (Liveright/Norton, Aug., $24.95, 9781631490477)
Booksellers who remember Eli Gottlieb for his debut novel, The Boy Who Went Away, which was about a boy and his autistic brother, are excited to see the author has returned to the subject of autism in his new novel, Best Boy. This time, Gottlieb presents a 53-year-old character who has been institutionalized since he was 11. Best Boy not only brings Gottlieb--author of Now You See Him and The Face Thief--back to a familiar subject but also reunites him with the editor of his first novel, Bob Weil, who is publishing the new book under his Liveright imprint.
The Harder They Come by T.C. Boyle (Ecco, March, $27.99, 9780062349378)
The Harder They Come, T.C. Boyle's first book with Ecco Press, is set in contemporary Northern California. According to Ecco, The Harder They Come explores the volatile connections between three damaged people--an aging ex-Marine and Vietnam veteran, his psychologically unstable son, and the son's paranoid, much older lover--as they careen towards an explosive confrontation. Linda-Marie Barrett is hoping Boyle, who is a favorite at Malaprop's, will have time to drop by the store while he is in town for WI.
Welcome to Braggsville by T. Geronimo Johnson (Morrow, Jan. $25.99, 9780062302120)
From the author of Hold It Till It Hurts comes a story about a group of Berkeley students who decide to travel to the Deep South where they intend to protest a Civil War reenactment and expose the locals' racism--only nothing goes according to plan. "It backfires, and shows the righteousness and racism of the left and the right," said Cotleur at Copperfield's. "It's a serious book in the end. But also very energetic and lively--and very pertinent to present-day issues."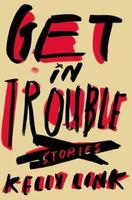 Get in Trouble: Stories by Kelly Link (Random House, Feb., $25, 9780804179683)
This book has garnered more bookseller buzz than any other going into WI10, perhaps because it has been more than 10 years since Kelly Link--whom Michael Chabon called "the most darkly playful voice in American fiction"--published a collection of stories. Link, founder and publisher of the indie Small Beer Press, is described by Maryelizabeth Hart, co-owner of Mysterious Galaxy in San Diego, Calif., as a "Renaissance woman." Get in Trouble is Link's first book with a big publisher, and booksellers hope that will propel her to greater attention. "She's up there with Neil Gaiman and Karen Russell, as far as how much our staff loves her," added Barrett at Malaprop's. --Bridget Kinsella
In subsequent issues we will highlight more WI10 buzz books: nonfiction, independent presses and YA/children's offerings.