Winter Institute in Asheville, N.C., begins this coming weekend, and we talked to booksellers about the titles and authors they're most looking forward to. (Part One, Fiction, is here.)
Our Only World: Eleven Essays by Wendell Berry (Counterpoint, Feb., $24, 9781619024885)
When it comes to nonfiction buzz, Wendell Berry topped every bookseller list of who they wanted to meet most in Asheville. Long before President Obama awarded Berry the National Humanities Medal in 2010, independent booksellers like Malaprop's general manager Linda-Marie Barrett--who called Berry "the Vaclav Havel of our country"--knew his worth. Sheryl Cotleur from Copperfield's in California thinks Berry "should win the Nobel Prize for literature." Early readers of his latest essay collection, Our Only World, agreed that the poet, novelist, farmer and conservationist continues to be the eloquent voice of reason and thought that has made him a favorite of indie booksellers for more than 50 years.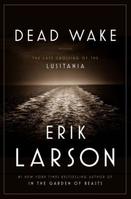 Dead Wake: The Last Crossing of the Lusitania by Erik Larson (Crown, March, $28, 9780307408860)
Although booksellers under 30 might not get the reference, their older colleagues know from experience that if Erik Larson wrote the phone book, they could handsell it into a bestseller. His latest work of gripping narrative nonfiction is published to mark the centennial of the sinking of the Lusitania, which contributed greatly to the U.S. entry into World War I.
The Light of the World by Elizabeth Alexander (Grand Central, April, $26, 9781455599875)
When President Obama tapped Elizabeth Alexander to recite a poem at his 2009 inauguration, the Pulitzer-nominated writer and Yale professor had no idea that her life would be forever changed when her 50-year-old husband and father of her two sons died suddenly. The Light of the World is Alexander's poetic memoir of coming to terms with her loss, as well as a love letter to her husband. "It's a beautiful book about so much," said Sarah Bagby, Watermark Books and Café, Wichita, Kans. "The way she reveals their relationship and his effect on people, and how she had to adapt to not having this larger-than-life person, makes you want to live your life better."
Between You & Me: Confessions of a Comma Queen by Mary Norris (Norton, April, $24.94, 9780393240184)
Mary Norris, long-time copy editor for the New Yorker, may have gotten a six-figure advance for her memoir (even the rumor gives comfort to those in a profession under siege in these autocorrect times). Sarah Bagby said, "I love this book. It's the combination of her great voice--she's so down to earth--but with enough gossip and literary anecdotes, and then this incredibly great grammar advice." Lynn Truss, author of Eats, Shoots & Leaves, will also be at WI for her novel, Cat Out of Hell (Melville House, March, $24.95, 9781612194424)--we wonder what the two grammar mavens will discuss over drinks.
The Cost of Courage by Charles Kaiser (Other Press, June, $26.95, 9781590516140)
Booksellers speculate this book might be the next Suite Française. Kaiser, a former New York Times and Wall Street Journal reporter, and author of 1968 in America and The Gay Metropolis, tells a true story of three children in a bourgeois Catholic family who worked together in the French Resistance. Kaiser's uncle met the family during World War II, and the author has known them for years.
Hold Still: A Memoir in Photographs by Sally Mann (Little, Brown, May, $32, 9780316247764)
Photographer Sally Mann's pictorial memoir is being compared to Patti Smith's Just Kids for its artful combination of prose and images. The book begins when Mann discovered boxes of old family photos in an attic, setting her on a path that includes "deceit and scandal, alcohol, domestic abuse, car crashes, bogeymen, clandestine affairs, dearly loved and disputed family land... racial complications, vast sums of money made and lost, the return of the prodigal son, and maybe even bloody murder." Kate Schlademan, owner of the Learned Owl in Hudson, Ohio, said she was not sure what to expect when she first started reading the book. "Right from the prologue she sets it up," said Schlademan. "It's really nice. I can't wait to see what the finished book looks like."
Getting There: A Book of Mentors by Gillian Zoe Segal (Abrams Image, April, $24.95, 9781419715709)
In another anticipated photographic book, Zoe Segal (New York Characters), gathered essays from 30 people at the top of their fields. The subjects in Getting There are presented as role models not just for their success, but for the paths they traversed to get there.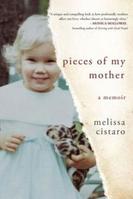 Pieces of My Mother by Melissa Cistaro (Sourcebooks, May, $24.99, 9781492615385)
Melissa Cistaro, events coordinator at Book Passage in Corte Madera and San Francisco, will be wearing the hat of debut author at WI this year. In her memoir, she details the devastation she and her brothers experienced after their mother abandoned them one summer, and her experience, years later, trying to piece together what happened as she sat at her dying mother's bedside. Bookseller colleagues are looking forward to picking up a copy of Pieces of My Mother at a WI reception where someone else will be holding galleys for the new author to sign.
Lesser Beasts: A Snout-to-Tail History of the Humble Pig by Mark Essig (Basic Books, May, $27.99, 9780465052745)
Asheville's own Mark Essig, author of Edison and the Electric Chair, delves into all things pig-related in this new book. Even though Barrett at Malaprop's is a vegetarian, she said she enjoyed a recent dinner with the author, who shared with her how pigs, of all the animals humans eat, are the beasts most likely to return the favor--because they will eat anything! What Mark Kurlansky did for Cod, Essig might just do for swine. And after learning all about pigs, booksellers will be primed for a book of pork recipes from the Top Chef-featured, bestselling author of Fire in My Belly: Pure Pork Awesomeness: Totally Cookable Recipes from Around the World by Kevin Gillespie (Andrews McMeel, March, $29.99, 9781449447076) .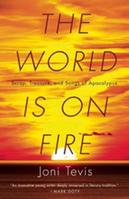 The World Is on Fire: Scrap, Treasure, and Songs of Apocalypse by Joni Tevis (Milkweed, May, $16, 9781571313478)
In Joni Tevis's latest collection of essays, she continues to explore the themes of material culture, abandonment of place and atomic dread that permeated her critically acclaimed The Wet Collection. Tevis is known to bring together seemingly unrelated topics--such as Liberace's death and the entertainment complex built by the military around weapons testing--to make brilliant observations in a collection "that can break the heart but is ultimately uplifting." She teaches at Furman College in nearby Greenville, S.C.
Leaving Orbit: Notes from the Last Days of American Spaceflight by Margaret Lazarus Dean (Graywolf, May, $16 paper, 9781555977092)
Margaret Lazarus Dean, author of The Time It Takes to Fall and winner of the Graywolf Press Nonfiction Prize, traveled to Cape Canaveral for NASA's final space shuttle launches. She provides both a history of space exploration as well as an elegy to human space flight. Graywolf sent some lucky booksellers freeze-dried ice cream along with galleys--but it is uncertain if the treats will be at the WI author reception. --Bridget Kinsella