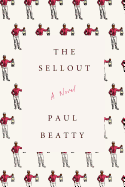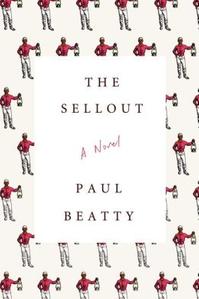 Born in Los Angeles and a long-time resident of New York City, Paul Beatty tramples the stereotypes and accepted sociology of American black males with dazzlingly smart fiction. The protagonists of his first two novels, White Boy Shuffle and Slumberland, are well-read and well-schooled in street vernacular and hip music, with a sardonic skepticism about what it means to be a black man in the modern world. His new novel, The Sellout, takes this same mix to the next level; it's an over-the-top fable of a young black man with the street name Bonbon who farms an urban tract in the once-rural (fictional) town of Dickens in South Los Angeles. Bonbon was raised by an academic sociologist with a penchant for using his son for behavioral experiments and who was famous among the Dickens "Dum Dum Donut Intellectuals" as a "ni**er-whisperer" who defused potential violence and suicide with his soothing voice: a "doo-wop tenor, deep... that rooted you in place like a bobby-socked teenager listening to the Five Satins sing 'In the Still of the Night.' " When his father is accidentally shot by the LAPD, Bonbon receives a $2-million wrongful death settlement and, as he says, "He and I bought the farm on the same day."
Though he'd expected to live a traditional Dickens life as "another Willie Lump Lump with a six-line résumé rife with spelling errors, trekking back and forth between the Job Center, the strip club parking lot, and the civil service exam tutorials," instead, with his new wealth and land, Bonbon develops his farm in the tradition of George Washington Carver, finding his own peanut "in the plant life that had the most cultural relevance to me--watermelon and weed." Bonbon hangs with his on-again, off-again girlfriend, city bus driver Marpessa, and local "celebrity" Hominy Jenkins, the last living Little Rascal from the famous 1920s and 1930s Our Gang film shorts. When Hominy tires of telling stories of his movie days, he insists that he become Bonbon's slave to restore the "plantation." In a plan to reinstate Dickens as a proper community, Bonbon rallies citizens to paint white lines down streets circumscribing the town, erects a fake Dickens exit sign on the freeway, designates the public Chaff Middle School as nonwhites-only, and solicits the addition of the whites-only prep school Wheaton to the neighborhood ("Apartheid united black South Africa, why couldn't it do the same for Dickens"). While he enjoys his "Wheaton-Chaff" segregation joke, the law finally comes after Bonbon for violation of several Civil Rights Acts, two Amendments and "at least six of the goddamn Ten Commandments." His case ultimately goes to the Supreme Court, a scene carefully and amusingly set up in the The Sellout's prologue.
Beatty is funny as hell and approaches what is a serious consideration of race with a relentless parade of stereotypes such as: "If there's one thing a successful black man... loves more than God, country, and his ham-hock-limbed mama, it's his shoes." But Beatty's satire isn't limited to blacks--he also skewers whites, Mexicans, celebrities, Africans, even autistic kids. Behind all the humor, however, Beatty asks important questions about racism and identity. The Sellout is a knock-out punch to everything all races smugly accept as our appropriate roles in a diverse world. It's always more complicated than we think. --Bruce Jacobs, founding partner, Watermark Books & Cafe, Wichita, Kan.
Shelf Talker: Beatty's saga of a black man farming in South Los Angeles and charged with violations of numerous Civil Rights Acts and Constitutional Amendments is a virtuoso satire with a serious undercurrent.