Andres Neuman
Traveler of the Century (Farrar, Straus & Giroux, 2012) is a novel set in early 19th-century Germany--a bit of a love story, a bit philosophy and politics, and a bit metaphysical. Without an introduction by way of jacket flaps or reviews, one could swear it was actually written in the 19th century. Author Andrés Neuman, however, is a relatively young Argentinian with about 20 books to his credit.
Neuman's second book to be translated into English, Talking to Ourselves (FSG, 2014), is on the 2015 Best Translated Book Award longlist. Far different from Traveler, it is a contemporary novel of illness, fidelity, parenting and death.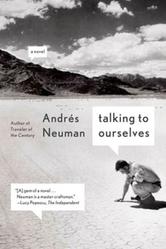 On the significant differences between the books, Neuman said, "Repeating a book would be killing a book." He explained: "For me, to try to write a book the same way I did before, would in some way diminish it, and make the new book older--and somehow weaker. The reason is perhaps that the first book was done with a high degree of uncertainty, with few rules, and a permanent sense of discovery, which now, in a second book, would very probably end up being done with too many certainties and precedent, and a certain lack of freshness and self-amazement.

"Therefore, I try to have the illusion that every single book of mine is the first one (regarding the learning process) and, paradoxically, the last one (regarding the need and desperation to write it). I know that our grandpa Borges conceived his body of work as only one great book... although not all his books are actually so similar, if we compare what he wrote until the mid-40s with the rest, and even his mature work with his late efforts. And [Eduardo] Halfon is certainly a fantastic friend and writer. But, in spite of their brilliant exceptions, in most cases, I feel that we tend to mistake what we benevolently call 'a style' for what the literary market would like to call 'a brand.' What I try to do is escape as much as possible from that risk. If there are similarities among my books (and I'm sure there are plenty of them), that happens against my will."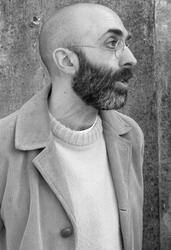 Eduardo Halfon
In correspondence with Eduardo Halfon, author of The Polish Boxer (Bellevue Literary Press, 2012) and the more recent Monastery (which competes with Talking for Ourselves for the 2015 BTBA), I mentioned the stylistic difference between his two novels and those of Neuman. Halfon responded: "I agree with Andresito. The difference--or the key, perhaps--is that, in my case, I'm only writing one book, and everything I publish along the way is just part of it. As if each book I write is a page or a chapter (rewriting is not only possible, then, but necessary).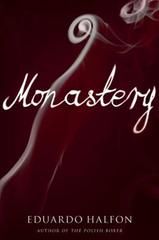 Or as if each book I write is a planet or star in some strange literary constellation, in which everything is intertwined and connected, and of which I, too, as I travel around it, am not completely aware of."

Andrés Neuman's forthcoming collection of 35 stories, The Things We Don't Do (Open Letter, September 2015) is, naturally, dissimilar from his two previously translated books. Divided into five thematic sections, it moves in multiple directions--some of the stories are funny, some poignant, some absurd, some dark.

Robert Bolaño said, "The literature of the twenty-first century will belong to Neuman and to a handful of his blood brothers." And so it does. And that is good.

All of Neuman's work is translated by Nick Caistor and Lorenza Garcia. Eduardo Halfon's books are translated by Lisa Dillman and Daniel Hahn (with Thomas Bunstead, Ollie Brock and Anne McLean on The Polish Boxer). --George Carroll