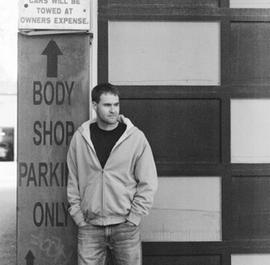 photo: Kevin Kelly
Nick Cutter is the pseudonym for Craig Davidson, who has published four books: Rust and Bone, The Fighter, Cataract City and Sarah Court. His work has appeared in Esquire, GQ, the Cincinnati Review, Salon and elsewhere. Rust and Bone was made into a film in 2012, starring Marion Cotillard and directed by Jacques Audiard. Under the name Nick Cutter, he has released three novels: The Troop, The Deep and his newest, The Acolyte (ChiZine, May 5, 2015).
On your nightstand now:
Knucklehead by Matt Lennox. Young Canadian writer who wrote a very powerful book, The Carpenter, a few years back. Strong stuff.
Favorite book when you were a child:
Where the Red Fern Grows by Wilson Rawls.
Your top five authors:
Stephen King, Robert R. McCammon, Shirley Jackson, Thom Jones, Clive Barker.
Book you've faked reading:
I'm not sure I've ever faked reading a book. I've claimed to like a few books I haven't liked to spare someone's feelings maybe (and perhaps others have done me that same favor), but not very often.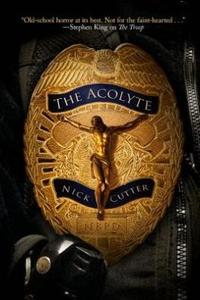 Book you're an evangelist for:
Hard Rain Falling by Don Carpenter.
Book you've bought for the cover:
A Million Little Pieces by James Frey. Cool cover, powder-blue background with a hand stuck with candy sprinkles. I think I realized it was at least partially BS halfway through, but still, it was a strong book.
Book that changed your life:
It by Stephen King. King changed my life, period. There are a dozen books of his I could put here, but why not go with It, which I think is his best--or if not, simply my favorite. The Losers Club--I was part of one of those growing up, so I can sympathize. We may not have had the adventures of those characters in the book, but still, reading it brought me back to those days.
Favorite line from a book:
"Revoke our time apart. Love me fierce in danger." That's the final line from James Ellroy's White Jazz. I'm pretty sure that's the exact line, but I'm quoting from long-ago memory. But it stuck. [Editor's note: that is the exact line.] There's also a great line from Newton Thornberg's Cutter and Bone that goes: "Humans are as alike as planets, and no amount of love or litany or scorn can arrest for one moment the terrible precision of their trajectories."
Which character you most relate to:
I guess I'd like to relate to the Cool Hand Lukes and Randall P. McMurphys of the literary realm, but, at best, I probably better relate to the Draglines and Billy Bibbits of this world. That's okay--they're great characters, too, in their own way.
Book you most want to read again for the first time:
Oh, any number could pop to mind here. Kids' books, really. But the great thing about having a young son is that you can, in a way, reread some books again--you read them to your kids, and in that way can relive all the excitement and awe you initially felt when you read them the first time.