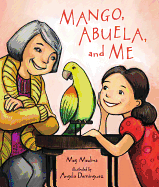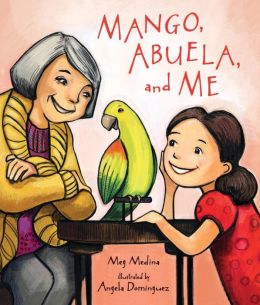 Meg Medina's (Tía Isa Wants a Car) elegantly crafted picture book traces a child's desire to communicate with her Spanish-speaking grandmother, and her perseverance to surmount their language barrier.
Angela Dominguez's (Maria Had a Little Llama) artwork fills in the parts of the story that remain unsaid. Abuela's expression reflects her sorrow at leaving "her sunny house that rested between two snaking rivers," where parrots nested in mango trees, and where her husband died. The story unfolds through young Mia's eyes, as she and her mother make space in her dresser for Abuela's things and set up a cot in her room. At first, neither child nor grandmother knows enough of each other's language to converse. Abuela shows Mia a red parrot's feather and a photo of tu abuelo, reminders of the home she left behind.
But then Mia remembers how her teacher helped her best friend Kim to learn English by labeling the things she needed most to know. Mia begins by naming the ingredients that go into the empanadas she and Abuela are making ("Dough," says Mia; "Masa," says Abuela, rolling it flat). Soon Mia is placing word cards on the lamp, pillow, flowers--even Edmund the hamster. Abuela "still calls my pillow a 'palo' and she says Edmund is a 'gángster,' " says Mia. But soon each teaches the other enough words to carry on a conversation. And when Mia finds a parrot in the pet store while buying food for Edmund, the bird joins the family--and their words--in pleasing mimicry of their newfound vocabulary.
Medina honors the beauty of holding onto one's history while also making room for new traditions. She demonstrates the richness to be gained by bridging two generations through the language dear to each. Her deceptively simple story models a way to close the communication gap and respect two languages and ways of life. Dominguez foreshadows the inevitable union of grandmother and child with a palette of warm shades of gold, red and pink. When Mia sets the parrot down between her and Abuela, the three connect visually, picking up the tones of the bird's feathers.
This uplifting and affirming tale makes clear that connecting with someone sometimes takes work and ingenuity, but the payoff is priceless. --Jennifer M. Brown, children's editor, Shelf Awareness
Shelf Talker: In this elegantly crafted picture book, a girl and her grandmother surmount a language barrier through perseverance and love.