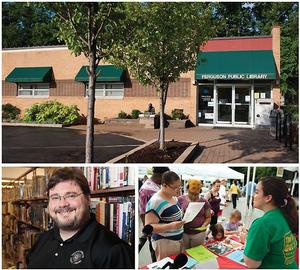 photos: Library Journal
The Ferguson Municipal Public Library has been named 2015 Library of the Year by Library Journal and Gale, which noted that the "small suburban library rose above the chaos and stepped up to provide sanctuary and resources for all in a community in crisis, and remained steadfast to that call over months of duress. The library leadership's modest 'it's what we do' stance resonated worldwide through social media and news coverage. It placed libraries in the center of the solution, and created a model for other libraries in communities experiencing strife."

Last summer, after the shooting of unarmed teenager Mike Brown by police officer Darren Wilson in Ferguson, Mo., sparked demonstrations and civil unrest, Ferguson Library remained open and engaged with its community. Library director Scott Bonner, who earlier this year received the American Library Association's Lemony Snicket Prize for Noble Librarians Faced with Adversity, said, "We did everything we could think of for the people of Ferguson. I wanted to look back on this time and regret saying yes too much instead of saying no too much. We supported our community and welcomed every human being in Ferguson, which is exactly what libraries do. Libraries help you become a better you, and help your community become a better community. I feel like this is really a recognition of the vital, honest work that all libraries do across the country every days."

Monday, indie bookseller Left Bank Books in St. Louis posted on Facebook: "Congrats to our friends at the Ferguson Municipal Public Library for the much-deserved honor!"

The award will be presented during a reception June 28 at the American Library Association Annual Conference.