Brad Parks, winner of the Shamus, Nero and Lefty Awards, and whose latest novel, The Fraud, was released by Minotaur Books on July 7, offers this account of a most unusual fan, birthday and author event:
The first time I met Erwin, my debut novel was but a squalling infant, less than a week old.

This was six years and six books ago, a time of wonder and innocence in my authorial life, and Erwin had been one of the last stragglers on line during a signing at a Barnes & Noble in Springfield, N.J. He approached with my book already encased in protective plastic.

"So, your print run," he asked, a calculating glint in his eye. "How small is it?"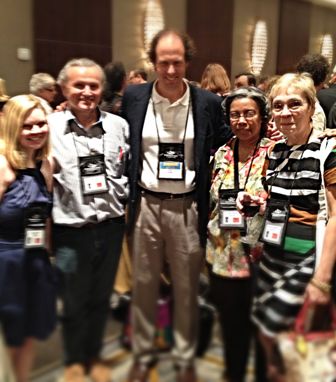 Parks (center) with his savior Erwin and other fans at Thrillerfest/Fanfest 2013.
This was my introduction to the economics of book collecting. Erwin had decided that a signed, first edition, first printing of my debut novel was going to valuable someday--a notion I didn't want to disabuse him of. We chatted amiably, and on he went.

I was 35 at the time. I never could have guessed that someday Erwin would become the man who saved my 41st birthday.

Speed up the story to earlier this July, on a Thursday, at approximately 11:30 a.m. I had arrived in Manhattan for Thrillerfest, the annual conference of the International Thriller Writers, and was looking for a place to stash my car. The Parking Gods smiled on me: a tiny spot with Monday/Thursday 9:30-11 a.m. street cleaning had just opened up. I crammed my car in, with two eyelashes to spare on either side, and walked away triumphant.

"I just won at New York City parking!" I texted my wife.

On Sunday afternoon, three days of boisterous Thrillerfesting later, I returned to my winning spot. It was just before 1 o'clock. I had a signing for my newly released thriller, The Fraud, at the Springfield, N.J., Barnes & Noble in an hour.

That's when I began to understand the aforementioned Parking God had been the trickster Loki. My car was gone.

I drive a Ford Fusion whose speedometer reading is starting to look like an ISBN number, so theft seemed unlikely. I looked up: I had read the street cleaning sign properly. I looked left and right: every other car on the street was still there.

Then I looked behind me, where there was a garage door, well-camouflaged into the surrounding wall, with faint orange spray paint stenciled on it: "NO PARKING. TOW-AWAY ZONE."

For a moment, I was actually dizzy. Many hundreds of fans--okay, many ones of fans--were going to be crushed when I no-showed.

I staggered around, bewildered. Cab after cab passed me by, as if they could sense my desperation and wanted no part of it. Then I spied a minivan with livery tags and a printed sign on the front seat that said "UBER." After a quick negotiation and a stop at the ATM, I was on my way.

During the ride out, I ascertained my car was at an impound lot in Long Island City, though it might as well have been East Hell--they are equally accessible when you are stranded without a car in suburban New Jersey. I called the phone number listed, and a man told me the lot was closed on Sundays.

My heart sank. My birthday was the next day. My young children had planned a full slate of festivities. But instead of playing with them, I was going to be battling my way across New York City and then making the six-hour drive home.

The only glimmer of hope was when the man told me a driver was heading out to the lot at 6:30 that night. If I could meet him then, I could get my car.

There was no way my book tour budget could accommodate another Uber ride along with the ransom I'd have to pay to retrieve my car. I thought of the public transportation gymnastics involved--a cab to the Springfield train station, a train to the subway, two subway switches and a long walk through a post-industrial wasteland. My chances for a happy birthday seemed dim.

I arrived at the Barnes & Noble with five minutes to spare and a case of the Woe-Is-Me's already setting in.

And there, sitting in the front row, was Erwin.

Since that first signing six years ago, Erwin has become one of my frequent fliers. He reliably finds me once per book tour so I can scrawl my name in the latest first edition for him. Two years ago, he brought his wife to an event in Paramus, because he wanted me to meet her. This time, he brought along his brother-in-law from Germany.

Erwin knows my print runs have grown since that debut novel, but that doesn't matter to him. He's told me he has no plans to sell any of his signed books. He says they're far more important to him than whatever money someone might offer for them.

It is tempting to get misty-eyed about how much I've come to appreciate readers like Erwin over the past six years; about how meaningful it is to me that they've connected to my words and stories; or about how their loyalty makes the long, lonely toil at the keyboard--to say nothing of the unplanned inconveniences of book tours--feel worth it.

I won't do that. I'll just say I hope every author has an Erwin. And it brightened my otherwise crappy day to see him at my signing.

And that was before I learned he had recently moved to Long Island. And that he'd be happy to give me a ride to the impound lot after the signing.

(As a side note, I did take time to explain to the German brother-in-law, who had never been to a book signing before, that it wasn't typical for the author to bum a ride off members of the audience after the event).

We made it to the impound with time to spare and I was home before midnight. It was one heck of a happy birthday. I owe Erwin my thanks for that. And for so much more.