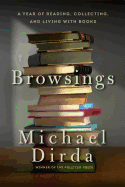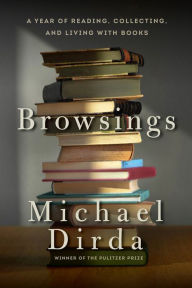 In February 2012, longtime Washington Post book critic Michael Dirda (Classics for Pleasure) replaced the legendary William Zinsser as weekly columnist for the American Scholar website. The 52 pieces collected in Browsings, which are the product of that assignment, shine with Dirda's passion for books, both as a reader and a collector, and are certain to delight any bibliophile.
In the self-deprecating tone that is his default style, Dirda characterizes these brief essays as the "meandering reflections of a literary sybarite." More accurately, they reveal the mind of a critic with an astonishing breadth of literary knowledge and a talent for sharing that learning in accessible, often humorous, prose. There are pieces on the differences between anthologies ("dating") and collections ("serial monogamy"), the lifelong allure of the books we read in childhood, writing implements and writer's block. He describes the books by his bedside, one of many lists that in total run into the hundreds of titles. On occasion, Dirda strays from purely bookish topics to relate an unfortunate Rocky Mountain hiking experience or offer his opinions on gun control in the wake of the Aurora movie theater massacre.
Several of the essays describe Dirda's frequent forays into the world of book buying. One of the most entertaining recounts a Saturday excursion from his home in Silver Spring to Frederick, Md., to escape the ordeal of a weeklong midsummer power outage. After tallying his impressive catalogue of purchases, his admission that "my wallet was certainly lighter than when I arrived, but then so was my heart," is a sentiment that will be familiar to any book lover. "Of course, I always feel happy in libraries in bookstores. They restoreth my soul," he confesses. Given Dirda's reverence for books, the religious tone of that comment is no coincidence.
Dirda owns a Ph.D. in comparative literature, but his literary preferences have a decidedly non-academic flavor. His current enthusiasms run to "science fiction, fantasy, mysteries and adventure stories written between roughly 1865 and 1935." The authors and titles he discusses from that period won't be well known to most readers, and while there probably is more on those subjects than some may prefer, Dirda's sheer delight in the products of this literary era is infectious.
"We read for aesthetic, emotional and intellectual excitement," Dirda writes, and he insists, more than anything, that "reading should be a pleasure." Anyone with even a modest affinity for books is sure to close this one with a renewed enthusiasm for finding the next absorbing title. --Harvey Freedenberg, attorney and freelance reviewer
Shelf Talker: Book critic Michael Dirda offers a diverse collection of essays on the myriad pleasures books bring to his life and ours.