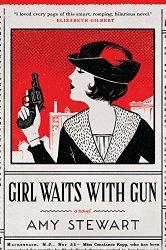 "I'm very interested in storytelling," said Amy Stewart, co-owner of Eureka Books in Eureka, Calif., and the bestselling author of The Drunken Botanist: The Plants That Create the World's Great Drinks and five other nonfiction books, and a novella, The Last Bookstore in America. Her novel, Girl Waits with Gun, is due out September 1 from Houghton Mifflin Harcourt and is an Indie Next Pick for that month. "Even while writing nonfiction, I'm trying to seek out stories, to tell the human side. Even when I'm writing about plants or nature or something like that."
Girl Waits with Gun is based on the true story of Constance Kopp and her two sisters. Constance, the oldest of the three and the novel's narrator, became one of the country's first female sheriff deputies in 1914 after a traffic accident in Paterson, N.J., led to a dangerous dispute. Stewart discovered the Kopps' story, in fact, while researching a gin-smuggler named Henry Kaufman for her 2013 book The Drunken Botanist. A search of the New York Times archives led her to a story of a Henry Kaufman who ran his car into a buggy driven by three sisters. The accident escalated into an "insane conflict" that included Kaufman trying to burn down the sisters' house and the sheriff issuing guns to the Kopp sisters to defend themselves.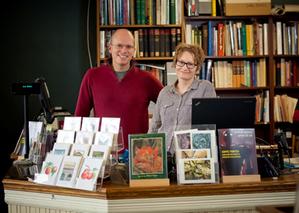 Amy Stewart and her husband, Scott Brown, at Eureka Books (photo: Delightful Eye Photography)
"I never did find out if it was the same Kaufman," remarked Stewart.
As she was finishing up The Drunken Botanist, Stewart started piling up newspaper clippings. She gathered land deeds, genealogical records and other historical documents until she had all but reconstructed the sisters' lives. She even hired a genealogist in Bergen County, N.J., and interviewed several of the Kopp sisters' descendants.
"I couldn't believe no one had ever written about them before," said Stewart. "I fell in love with their story."
Stewart also realized relatively early on that the book would have to be fiction. Despite the thoroughness of her research, there were still plenty of "little, frustrating gaps" in the record, including portions of the sisters' lives as well as intimate moments they might have had with friends and family. But, beyond that, it seemed to Stewart that their story should be a fun, adventurous one. There was something about the Kopp sisters, she said, that made her feel that a novel about their lives should be "pure entertainment."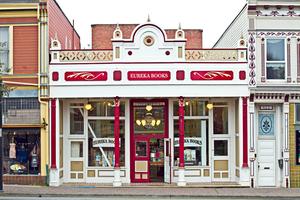 (photo: Terrance McNally)
While working on Girl Waits with Gun, Stewart drew inspiration from a variety of detective novels, including Walter Mosley's Easy Rawlins series and Sara Gran's Claire DeWitt books. The Easy Rawlins series, which begins with Devil in a Blue Dress, follows Rawlins as he investigates cases and attempts to get his life back on track in Los Angeles in the 1940s. The vivid depiction of a particular place and time, along with the story of a disenfranchised member of society trying to navigate the existing power structures, resonated with Stewart and what she was trying to do with Girl Waits with Gun. And the first Claire DeWitt novel, Claire DeWitt and the City of the Dead, begins with the eponymous private eye arriving in New Orleans 18 months after Hurricane Katrina to investigate the murder of a District Attorney. Throughout the novel, Stewart explained, DeWitt grapples with her past in a complicated and difficult way. That, too, influenced her as she wrote Constance's story.
"Those were the two that just really stuck in my head as I was working on this," Stewart added.
Transitioning from nonfiction to fiction brought Stewart a variety of opportunities and challenges. One thing that felt liberating, she said, was not being so strictly bound to the facts. With fiction, "anything that's not working, you're free to change. The story can go in any direction." But at the same time, that freedom presented its own difficulties. "It's not a clean, straightforward process," Stewart said. "You can get overwhelmed with the choices.
"It was also really fun to write in someone else's voice," she continued. To help make Constance's voice feel authentic, she spent a great deal of time reading 100-year-old novels, including the mystery novels of Mary Roberts Rinehart. "It was very fun to get in someone else's head."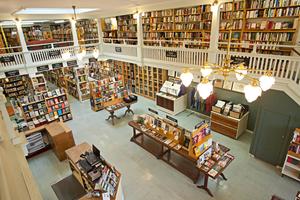 (photo: Terrance McNally)
Over the course of her career, Stewart said she "learned the hard way" not to write and research at the same time. For her first two books, she recalled, she tried that method and wound up with manuscripts that were complete messes. In both cases she had to ditch those drafts and start again. Since then, she's forced herself to do a solid year's worth of research before putting anything to paper, and with Girl Waits with Gun this was no different.
The author tour for Girl Waits with Gun is set to begin just a few days after its publication, with Stewart making an appearance at the Decatur Book Festival in Decatur, Ga., on September 6. From there, she'll be making stops at more than 20 bookstores across the country. Stewart is particularly excited about two events in New Jersey--at Watchung Booksellers in Montclair, N.J., and at the Ocean County Library in Toms River, N.J.--where she hopes to see some surviving members of the Kopp family. Stewart also won't be doing an event in Eureka until early October, but the plan is to have a "massive party" at a vintage, restored theater down the street from Eureka Books. For that event, Stewart has created a custom cocktail called the "New Jersey Automobile," based on a cocktail from the 1910s called the Automobile. Stewart's version includes applejack, gin, sweet vermouth, blackberry jam and sparkling wine. Said Stewart: "I'm hoping some bookstores will want to serve it."
When asked if it were too early yet for plans for a next book, Stewart answered, "It's not too early. There's more in store for the Kopp sisters. There's more to come on that front. They really had amazing lives. The best is yet to come, in some ways." --Alex Mutter