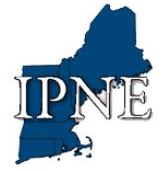 "Opportunities for collaboration come along all the time, but as independents, we are sometimes so focused on doing it our way that we fail to see the possibilities right in front of us," wrote Independent Publishers of New England president Charlotte Pierce of Pierce Press in the catalogue for this year's IPNE Publishing Conference, held recently in Portsmouth, N.H.

I was there, having been invited to give a little talk about my life in the world of books. What I took away from the show, however, was a keen sense of how that word "collaboration" resonates when considering the future of book world organizations like IPNE.

There was a moment on the first day when attendees were asked to raise their hands if they were a) publishers of other writer's books, b) publishers of their own books, c) hybrid publishers who did both, or d) authors. A lot of hands went up when that final category was mentioned, but IPNE's leaders stressed the importance of self-identifying as publishers, even if you are publishing your own books.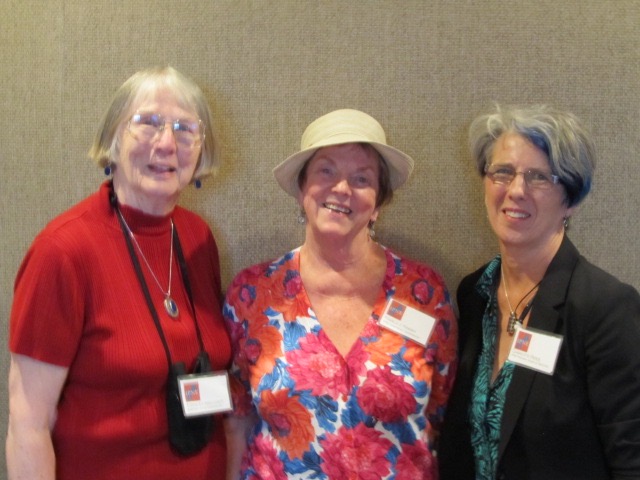 Tordis Isselhardt, Pamela Fenner & Charlotte Pierce

"You have to think of yourself as a publisher," advised Steve Porter in his seminar on marketing through partnerships, adding: "You cannot do it alone." Porter is an author, publisher (Stillwater River Publications) and the founder of the Association of Rhode Island Authors. Earlier, he'd recommended that all attendees do more than just visit the conference bookstore: "When you purchase a book and take it home, you become an advocate for that author."

In considering the "Collaboration Is the New Competition" theme, Pierce observed that the idea "was to establish a back-and-forth flow of information, resources, and support while pursuing our passions as independent publishers and authors, and without creating an organizational structure requiring huge amounts of capital and staffing. Of course this will always be a work in progress, but at the conference, I saw the wheels starting to turn in people's heads and connections starting to happen."

Noting that IPNE members "are a quirky and wildly varying bunch," Pierce added that during the conference, she "could see people becoming aware of how connecting with each other in this group with shared goals and interests would be helpful to them; and how paying it forward to others in the group also helps themselves."

Pierce also presented the first independent publishing achievement awards to IPNE co-founders Tordis Isselhardt (Images from the Past) and Pamela Fenner (Michaelmas Press), "the two IPNE members who taught me the most about the value of paying it forward and being open and transparent when working in publishing teams."
Isselhardt observed that the conference "showed IPNE's strong educational role in providing both general information and individual skill training. Publishers (and writers in search of a publisher or considering self-publishing) need to understand and be informed about the constantly changing Big Picture of the publishing industry. Publishers also need to understand their place in the industry based on a realistic assessment of their own talents and preferences, so they can prioritize their actions effectively and profitably. No matter how long we're in the business, we all benefit from reviewing the essential steps in the creation of a book, i.e. of the publishing process from ideas to a book that sells to a successful back list title that goes on selling--if we're lucky!"

Publishing a book "has never been more accessible or complicated," Fenner said. "While writers and publishers have many options today for getting into print, many may not grasp the importance of nor know how to find reliable resources for appropriate editing, quality book design and effective marketing tools. For more than 15 years, IPNE has offered education and networking opportunities for independent authors, publishers and service providers through regional trade shows, local meetings, weekly video 'office hours,' workshops and our annual conference." Describing this year's conference as "our best to date," she added: "Attendees left with enthusiasm, practical tools for their enterprises and a strong sense of community."

Pierce cited a recent example of collaboration in action. Board member Crystal Ponti of Blue Lobster Book Co. coordinated this year's book awards and found a new client when IPNE partnered with the Maine Writers & Publishers Alliance so they could register for the conference at member rates.

"Realizing that Crystal was looking for new clients, I sent her a list of Maine authors and publishers that IPNE had in its resources file," Pierce recalled. "She promptly created a book awards poster for display at our NEIBA exhibit. We retweet each other's tweets, like our Facebook postings. Our relationship has ratcheted up a couple of notches. Crystal are I are both publishers, but we don't regard each other as competitors. By being mindful of opportunities to build each other up, we create an environment in which we both grow and win."

That's precisely the environment I saw being encouraged, and realized, during IPNE's Publishing Conference. --Robert Gray, contributing editor (column archives available at Fresh Eyes Now)