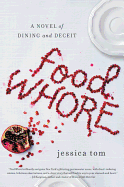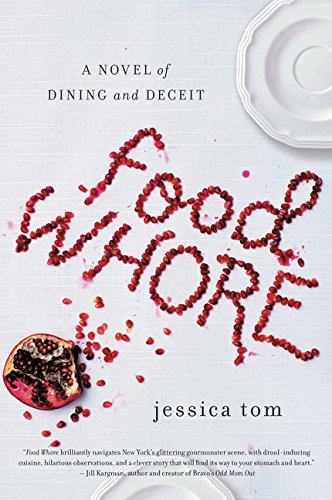 In Jessica Tom's first novel, Food Whore, her experience as a restaurant reviewer for the Yale Daily News Magazine and her work with food truck, restaurant and culinary program initiatives is put to good use. The story revolves around Tia Monroe, who has moved to New York City to attend grad school at New York University and do an internship with one of the hottest food writers of the day. Tia's already had a brief taste of what fame feels like: one of her essays, on making a special kind of cookie, Dacquoise Drops, for her ailing grandfather, landed her a feature story in the New York Times. Then the internship falls through, and Tia finds herself working as a coat checker at Madison Park Tavern, a position that doesn't fit her true desires of being known for food writing. Through a twist of fate, Tia collides with Michael Stalz, a Times restaurant critic, who confides to her that he's lost his sense of taste. He decides to hire Tia to taste the food for him and become his ghostwriter.
Gourmet food descriptions--"The waiter returned with a pre-appetizer amuse-bouche, a soup spoon filled with diced radishes, shortbread crumbs, and a black pepper gastrique.... The flavors surged. The radishes had been pickled, articulating their peppery bite and giving them a sharpened edge. The shortbread grounded the bite with a bready, buttery mouthful and the black pepper-vinegar sauce finished it with an elegant and seductive wisp of sweet, salty, and spicy"--and the haute couture fashion scene of New York City are deliciously blended into a story of intrigue and double cross. Balancing her schoolwork with her job at the restaurant while hiding her secret identity as Staltz's taster leads Tia deeper and deeper into a world of power plays and sexy romps that make her question what is truly important for her to succeed.
Tom obviously knows her way around the kitchens and high-fashion stores of New York City--her writing has a knife-edged precision to it. She understands the complexity and psychology behind the creations her imaginary chefs produce, as well as the inner desires and fears women experience as they navigate the fine line between being true to themselves and projecting an air of power and sexiness to those who matter in the fine dining world. If book reviews gave out Michelin stars, Food Whore would rate three stars. --Lee E. Cart, freelance writer and book reviewer
Shelf Talker: An aspiring food writer agrees to be the secret taste tester for a New York Times restaurant critic and becomes deeply involved in the complex worlds of fashion and fine dining.