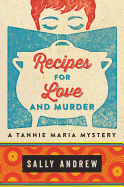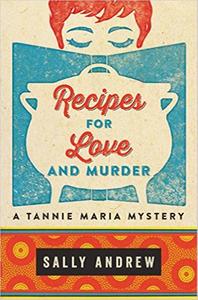 Nonfiction author Sally Andrew (The Fire Dogs of Climate Change) stirs up a satisfying mystery in her debut novel, Recipes for Love and Murder. Tannie ("Auntie") Maria van Harten enjoys writing her recipe column for the newspaper in her small South African town. When the Gazette's editors decide to nix the recipes in favor of an advice column, Tannie Maria tries her hand at mixing culinary and romantic tips. Soon the letters are flooding in, and Tannie Maria finds herself helping readers with matters of both the table and the heart.
When Martine, an abused woman who has written to Tannie Maria, ends up dead under suspicious circumstances, the cook-cum-journalist and her colleagues are drawn into a murder investigation. Against the vast backdrop of the South African veld, Tannie Maria and her fellow reporter Jessie attempt to trace the killer before he or she strikes again.
Andrew has created a charming protagonist in Tannie Maria, who sprinkles her first-person narration with baking tips and Afrikaans words. "My mother was Afrikaans and my father was English and the languages are mixed up inside me," she explains. "I taste in Afrikaans and argue in English." As Tannie Maria works through the case, she takes refuge in familiar recipes, such as beskuit (dried rusks) and melktert (a creamy custard pie). When the handsome detective Henk Kannemeyer catches her eye, Tannie Maria cooks him a feast of tamatebredie (tomato stew) with lamb. Her previous experience with an abusive husband (now deceased) has made her wary of men, but both Martine's death and Tannie Maria's growing attraction to Kannemeyer will force her to confront her past hurts.
While Tannie Maria is the center of the story, Andrew's narrative is full of delightful characters: trim and elegant newspaper editor Hattie, impulsive reporter Jessie, Kannemeyer and his colleagues at the police station. Even some of the murder suspects--including Anna, Martine's volatile lover--are appealingly written. The mystery's final solution neatly weaves together the clues, and although several of the main characters face danger, readers can hope to see them all again in future books.
"We can be sure that our lives will all end with death," Tannie Maria writes to a reader. "There's not much we can do about that. But you can add love and good food to your life. That is your choice." With a dash of South African history and a pinch of social consciousness, Tannie Maria's first adventure serves up a satisfying mix of romance, humor and crime solving. --Katie Noah Gibson, blogger at Cakes, Tea and Dreams
Shelf Talker: A satisfying South African mystery, narrated by a widow who writes a recipe-and-advice column for the local newspaper.