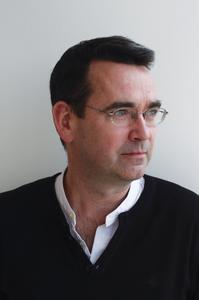 photo: Lee Gillies
Mick Herron was born in Newcastle upon Tyne, England, and now lives in Oxford. He is the author of the Slough House series (Slow Horses and the Gold Dagger-winning Dead Lions), and a mystery series set in Oxford. His work has been nominated for Macavity, Barry and Shamus Awards, and his latest thriller, Nobody Walks (Soho Press, 2015), has been shortlisted for the CWA Steel Dagger. His next book in the Slough House series is Real Tigers (Soho Press, January 19, 2016).
On your nightstand now:
Paula Hawkins, The Girl on the Train; Christopher Reid, The Curiosities; Christopher Andrew, The Defence of the Realm: The Authorized History of MI5; Scarlett Thomas, The Seed Collectors.
Favorite book when you were a child:
Kenneth Grahame's The Wind in the Willows. Though there was also a book whose title and author I don't remember, which featured a dog that grew a pair of wings, and was large enough to carry children on its back. At some point in the story, it gets shot down with an arrow. (Spoiler: it lives.) If I can boil that memory down to a pithy phrase, it'll provide me with a Rosebud moment on my deathbed.
Your top five authors:
Charles Dickens, Jane Austen, Kate Atkinson, John le Carré, Philip Larkin.
Book you've faked reading:
There are some, sure, but if I provide details, I'll either give mortal offence to friends who are writers or produce litigious feelings in editors who've commissioned reviews.
I have, though, owned a copy of Nabokov's Ada for more than 20 years without ever getting past page 3. Which is strange, because I devoured his other books.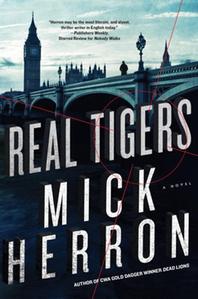 Book you're an evangelist for:
Nick Harkaway's The Gone-Away World. Sheer madcap brilliance, defying categorization.
Book you've bought for the cover:
I'm almost sure I've never done this. But I'll think of dozens of examples just as soon as I've returned the questionnaire.
Book you hid from your parents:
Another tricky one. But I remember reading Henry Miller's Tropic of Cancer in my teens, and I don't suppose I left that lying around.
Book that changed your life:
It would be whichever of the Dick and Dora series that was the first book I read by myself. (NB: You might want to be careful Googling these.)
Favorite line from a book:
"George, you won," said Guillam....
"Did I?" said Smiley. "Yes. Yes, well I suppose I did."
--Smiley's People by John le Carré (Another spoiler. Sorry about that.)
Five books you'll never part with:
Philip Larkin, Collected Poems; Vladimir Nabokov, Pale Fire; Martin Cruz Smith, Gorky Park; Jane Austen, Pride and Prejudice; Anthony Burgess, Earthly Powers.
Book you most want to read again for the first time:
Jane Austen, Pride and Prejudice.
The above question that would elicit the same answer from you on a different day:
None of them.