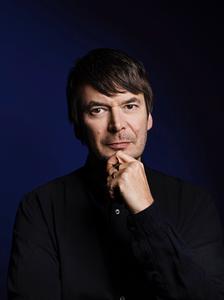 photo: Hamish Brown
Ian Rankin is the author of the long-running series featuring Inspector John Rebus and set in Edinburgh, where Rankin lives. The Rebus books have garnered many prizes, including the Diamond Dagger and Gold Dagger and the Edgar Award. Rankin is the recipient of an OBE (Officer of the British Empire) and is Deputy Lieutenant of Edinburgh. His latest novel is Even Dogs in the Wild, published by Little, Brown (January 19, 2016).
On your nightstand now:
Deep Shelter by Oliver Harris, a fast-paced conspiracy thriller set in contemporary London, featuring one of the most disreputable (yet engaging) cops you will ever meet.
Favorite book when you were a child:
Until about the age of 12, I only read comics--Batman, Superman, that sort of thing. But there were all these films I wanted to see as a teenager, and I discovered that though they were forbidden to people under the age of 18, no one wanted to stop me reading the book--so I started reading A Clockwork Orange by Anthony Burgess, The Godfather by Mario Puzo, The Exorcist by William Peter Blatty, etc.
Your top five authors:
Muriel Spark, Robert Louis Stevenson, Ruth Rendell, James Ellroy, Lawrence Block.
Book you've faked reading:
I can't think of one. I've never been embarrassed to say I couldn't finish a particular book or can't get into a certain author. Proust? Gave up. Don Quixote? Gave up.
Book you're an evangelist for:
The Private Memoirs and Confessions of a Justified Sinner by James Hogg. It's a difficult and ambiguous book about religion and evil, which also happens to be a really early serial killer thriller. (It was published in 1824.)
Book you've bought for the cover:
The Book of Strange New Things by Michel Faber--the contents were pretty good, too!
Book you hid from your parents:
When I was 13 or 14, a friend loaned me The Happy Hooker by Xaviera Hollander. To be read by flashlight once the house was asleep.
Book that changed your life:
A Clockwork Orange by Anthony Burgess. It was literary in style but also an exciting read. I started writing short stories that borrowed heavily from it. I was maybe 14 or 15.
Favorite line from a book:
"When I finally caught up with Abraham Trahearne, he was drinking beer with an alcoholic bulldog named Fireball Roberts in a ramshackle joint just outside of Sonoma, California." --The Last Good Kiss by James Crumley.
Five books you'll never part with:
Bleak House by Charles Dickens; Laidlaw by William McIlvanney; The Prime of Miss Jean Brodie by Muriel Spark; The Private Memoirs and Confessions of a Justified Sinner by James Hogg; Lanark by Alasdair Gray.
Book you most want to read again for the first time:
The Black Dahlia by James Ellroy.
An author, alive or dead, with whom you would most like to share dinner:
Robert Louis Stevenson.