This week is bookended, more or less, by Groundhog Day CXXIX in Punxsutawney, Pa., and Super Bowl L in the San Francisco Bay Area. Oops, I mean Super Bowl 50. After more than four over-hyped Roman Numeral decades, the National Football League was understandably intimidated by the "L" (as in loser). To celebrate the aligning of these two quintessentially American celebrations, I set for myself the challenge of finding ways in which they bordered my world of books. Impossible, you say?


I could submit for your approval the classic holiday movie Groundhog Day, in which Phil (Bill Murray) cites Anton Chekhov and reads from Poems for Every Mood to Rita (Andie MacDowell), who studied 19th century French poetry in college and at one point conjures up lines from Sir Walter Scott's "Lay of the Last Minstrel." Among Phil's books on the coffee shop's counter are Treasury of the Theatre: From Agamemnon to A Month in the Country by John Gassner and Johann Strauss: Father and Son, a Century of Light Music by H.E. Jacob.

Or I could screen a pair of Super Bowl 50 commercials for movie adaptations of classic novels by Lewis Carroll and Rudyard Kipling.

But wait, there's more!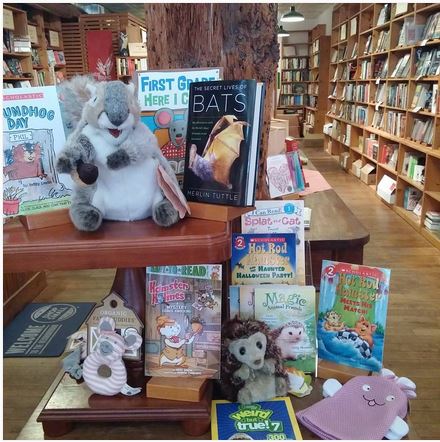 Fountain Bookstore, Richmond, Va., is offering its annual Groundhog Week Sale, during which "books and merchandise featuring rodents and things we think are rodents but really aren't are 20% off. Books by or about politicians are not eligible for this offer."

Former New York Giants and Oakland Raiders defensive end Justin Tuck, who announced his retirement Monday, made a Groundhog Day appearance on the Dan Patrick Show (9:38 mark) and talked about R.U.S.H for Literacy. He and his wife, Lauran, founded the initiative in 2008 with the mission of "encouraging children to read, understand, succeed and hope." The Tucks also donated $250,000 to The Re(a)d Zone, "a signature initiative focused on investing in, strengthening and building the capacity of high-quality, literacy-enhancing programs that increase third grade reading proficiency throughout the Bay Area."

Changing Hands Bookstore, Phoenix, Ariz., invites you to "join us for Super Bowl 50!... We'll have Happy Hour prices at First Draft Book Bar ($1 off all tap and house wine and beer, plus nuts and pretzels), plus a screening of the Super Bowl on the big-screens in the Commons."

Watermark Books, Wichita, Kans., hosts its fourth annual Book Club Sunday.

The 16th annual Alternative Souper Bowl--a free, celebratory afternoon of live music takes place at the Carnegie Library of Pittsburgh in Oakland: "Guests are invited to bring non-perishable food items and household items (listed below) for donation to HEARTH, which provides shelter to families that are experiencing homelessness and fleeing domestic violence."

The city of Mountain View recommends that visitors enjoy the well known bookstores downtown: East West, BookBuyers & Books Inc."; the Sacramento Bee suggests stops at City Lights Books ("a must-see for travelers from Bodø to Beijing") and Green Apple Books ("the vibe is warm and inviting"), while Denver's Fox31 offers a tragically unhip travel tip: "For you bookworms, check out the 'beatniks' at City Lights Bookstore in San Francisco, one of America's only truly independent bookstores."

Michael Oher, the subject of Michael Lewis's 2006 bestselling book The Blind Side: Evolution of a Game, will be playing in the Super Bowl as an offensive lineman for the Carolina Panthers.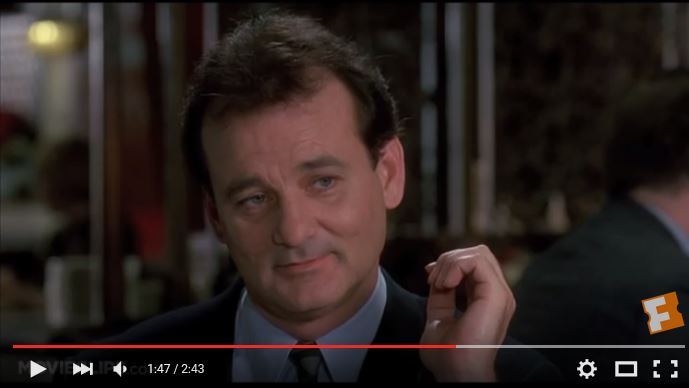 For me, however, the clincher is an imaginary library that could have been a key moment in Groundhog Day. The movie's co-writer Danny Rubin recalled that his original concept called for a "library scene" at the bed & breakfast that would emphasize just how long Phil had been trapped in his time loop.

"I decided if he read a page of a book every day, he could remember where he was," he said. "So there's this big bookcase in the bed and breakfast, and every morning he goes down and he reads one page of one book. So you know that by the time he's gotten to the last page of the book, it's probably been about a year. And then he gets to the end of the row; and then he gets to the bottom of of the shelf. And then there's a very momentous day where he reads the last page of the last book of the last shelf, and you see him put it down and then, in a very depressed way, walk all the way back down to the beginning and start over again."

Sometimes the Super Bowl feels like that, especially during the halftime show. But there's always an element of surprise, even the literary kind, in the commercials. Remember when Apple channeled George Orwell's 1984 in the company's ad, directed by Ridley Scott, for Super Bowl XVIII? Now that was a game changer. --Robert Gray, contributing editor (column archives available at Fresh Eyes Now)