There are too many writers I haven't read or even heard of, despite more than six decades of chronic book addiction. It's embarrassing. Sometimes, however, I do manage to stumble upon an author whose work and life absolutely stun me. This occurred last fall as I read an ARC of Anything That Burns You: A Portrait of Lola Ridge, Radical Poet by Terese Svoboda (Schaffner Press), but the tale actually began in late 2014 when I first learned the bio was in the works, became intrigued and ordered a copy of Ridge's Sun-Up and Other Poems. From "Train Window":

Small towns
Crawling out of their green shirts...
Tubercular towns
Coughing a little in the dawn...
And the church...
There is always a church
With its natty spire
And the vestibule--
That's where they whisper:
Tzz-tzz... tzz-tzz... tzz-tzz...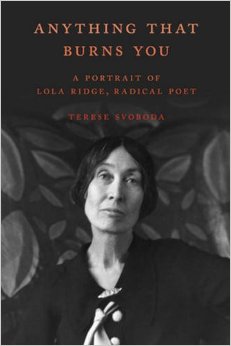 Questions occurred to me then, the primary one being: Who the hell is Lola Ridge and how could she have never hit my radar before? I know. It's a question we ask ourselves all too often, but in this case it is eloquently answered in Svoboda's biography of Ridge, a human rights activist and acclaimed poet who lived what the author describes as "a very formative 24 years" in the New Zealand gold mining town of Hokitika before eventually ending up in 1920s New York City. Her friends included Marianne Moore and William Carlos Williams, while Emma Goldman and Margaret Sanger were mentors. Hers was an extraordinary international life distilled into striking poems.

Chronicling Ridge's world is daunting enough, but I wondered how Svoboda is now approaching the challenge at author events of introducing contemporary readers--like me--to an author whose work should have been an intrinsic part of our lives already.

"I touch on the highlights of her life in the opening few pages: starting with her immobile under rearing police horses at the demonstration against execution of Sacco and Vanzetti," Svoboda told me. "I talk about her trek from New Zealand, dropping her son off at an orphanage, working for Emma Goldman and Margaret Sanger, and turning into the doyenne of poetry as a friend of Williams, Moore, Jean Toomer and Hart Crane--but then I have to go off book and summarize about her struggle with the wealthy Harold Loeb to keep the modernist movement going, her drug use, wandering penniless through Baghdad and taking a lover in Mexico, and the various shenanigans of the poetry world. While daunting, that's what I use to tease them into the q&a. Unlike the biographies of many other writers, hers is so full of incident it seems to have been lived by at least two people."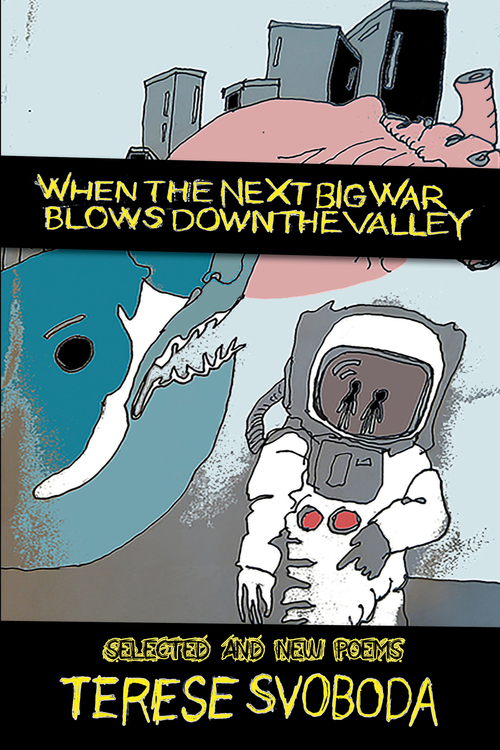 Svoboda, whose own collection When the Next Big War Blows Down the Valley: Selected and New Poems, was also published recently, had a launch event this month for both books at Astoria Bookshop in Queens, where owners Lexi Beach and Connie Rourke "were very welcoming. The rain stopped for just the right amount of time and the place filled up nicely," she said. "We served champagne and chocolate to a good mix of old friends like novelist Dawn Raffel and poet Stephanie Strickland, and people dropped in from the neighborhood."

At Red Emma's Bookstore Coffeehouse in Baltimore, Md., she "felt a great sense of awe after the reading. Two young female rebels came up for autographs afterwards, saying things like 'I had no idea!' The staff was particularly welcoming and well-prepared and had their own questions about the book. Paired earlier in the day with Morowa Yejide at the Writer's Center in Bethesda, I met a number of women very excited to discover a modernist who had figured out how to write on issues of race and homelessness and sex."

On Sunday, there will be a free Modernist Ball/Hangover Tea at Bob Holman's Bowery Poetry Club "in honor of all the parties Lola gave to keep the modernist flame going," Svoboda said. "Redecorated a couple of years ago into a more '50s nightclub look, the place is serving cake and Prohibition 'tea.' Anyone who comes looking like any of the modernists--Williams, Moore, Toomer, Crane, the Baroness Elsa von Freytag-Loringhaven, and of course Lola--may read a poem."

For booksellers, handselling titles they love means honing the irresistibility factor so potential readers feel they need a particular book. I asked Svoboda how she would approach the handselling challenge with Anything That Burns You. "I'd say the book turns on its head the idea that poets are extraneous to the cultural conversation," she replied. "Lola lived her wild life dedicated to freedom, and that's what America was founded on, and that's what modernism in America was all about, and that's what poetry encourages." From Ridge's poem "The Ghetto":

Nights, she reads
Those books that have most unset thought,
New-poured and malleable,
To which her thought
Leaps fusing at white heat,
Or spits her fire out in some dim manger of a hall,
Or at a protest meeting on the Square,
Her lit eyes kindling the mob...
Or dances madly at a festival.
Each dawn finds her a little whiter,
Though up and keyed to the long day,
Alert, yet weary... like a bird
That all night long has beat about a light.

Readers, meet Lola Ridge.... You're welcome.