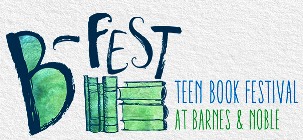 Barnes & Noble is launching its inaugural B-Fest, a three-day teen book festival that will take place at all B&N stores June 10-12 and feature hundreds of authors of teen books. Writers scheduled to participate include Jay Asher, Jesse Andrews, Nicola Yoon, Rick Yancey and Christopher Paolini.
B-Fest will also feature events and activities for teens, including a story development workshop, cosplay, trivia and interactive games. Teens will get access to free content, including chapter samplers, a cover reveal and more, while supplies last. In addition, one Trivia Blast winner per store will be added to Penguin Teen's Advance Reader's Copy mailing list for one year.
Mary Amicucci, B&N's chief merchandising officer, said B-Fest "is all about delivering an authentic book festival experience to teens that will bring the exciting worlds of writing and publishing to life. Best of all, B-Fest will bring an unprecedented number of authors of teen books to Barnes & Noble stores to engage their fans across the country."