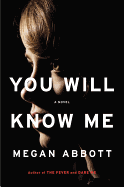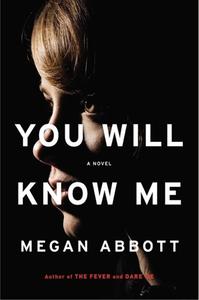 Edgar and Barry Award-winner Megan Abbott wrote her dissertation, The Street Was Mine, on classic crime novelists like Raymond Chandler, James M. Cain and Jim Thompson. She then crafted her early fiction in the same first-person narrative style, with vintage dialogue, often based on historical crimes (Die a Little; Queenpin). More recently she has turned her dark eye on the secrets of seemingly ordinary families and the shocking crimes that sometimes engulf their small towns (The Fever).

In You Will Know Me, Katie and Eric Knox, wed hastily after a surprise pregnancy, are just settling into a normal parenthood when their rambunctious three-year-old, Devon, loses two toes to a lawn mower Eric carelessly leaves running. Determined to help Devon overcome this childhood trauma, they enroll her in a local gymnastics group. It quickly becomes clear that their ordinary family has an extraordinary athlete on its hands. Too good for her strip-mall club, they bring her to the famous Coach T and his BelStars gym. Teddy Belfour is a "silver-maned lion, the gymnast whisperer, the salto Svengali," and Devon joins his "fearsome BelStars girls whippeting around with faces grim as Soviets." Nothing in the Knox family will ever be the same.

Abbott captures the devotion, sacrifice and obsession that comes to a family with a prodigy athlete--the "vein-pulsing work... countless jammed fingers and torn palms... credit-card debt ticking up, and a gym that cost almost as much as one of their two mortgage payments." Their precocious son, Drew, is often left to entertain himself while stuck in the bleachers watching his star sister compete. Eric takes charge of the BelStars booster club to raise money for better equipment and more out-of-town meets. Devon gets better and better--and less social. Other girls envy and disparage her. While their bodies age into teen curves and their gossip turns to boys, Devon remains a focused gymnastics machine with an "aerodynamic missile of a body, low, tight, no drag"--until a handsome young construction worker comes to build an Olympic-rated foam pit under the gym's vault.

Ryan Beck has a rumored delinquent past, but the girls--and their moms--are smitten. When he is mysteriously killed by a hit-and-run driver, the curtains part and Abbott reveals the secrets, jealousies and outright malevolence under the surface of the Knox family and the BelStars boosters.

Abbott is working at the top of her craft, and You Will Know Me is a crime novel where the crime is only a catalyst for an accomplished exploration of ordinary people's unraveling when they become obsessed with the extraordinary among them. --Bruce Jacobs, founding partner, Watermark Books & Cafe, Wichita, Kan.

Shelf Talker: Abbott's suspenseful You Will Know Me reveals the envy, resentment and fragility of an ordinary family and small community obsessed with an extraordinary young athlete.