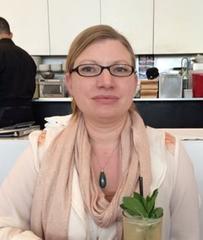 Ariana Paliobagis
Ariana Paliobagis, owner of Country Bookshelf in Bozeman, Mont., will visit the Frankfurt Book Fair this October as the guest of Europa Editions, where she'll meet Europa staff and their global publishing partners, tour the Frankfurt show floor and meet German booksellers as well as publishers from the U.K.
"Mostly I'm excited to meet my colleagues and my cohorts from around the world, to learn more about the state of bookselling and publishing around the world, particularly in Europe," said Paliobagis. This will be her first time at the Frankfurt Book Fair and her first time in Germany. "I'd love to learn more about bringing international works of literature into the U.S., and acquiring works in translation."
Last month, the Country Bookshelf won Europa Editions' inaugural Europa International Book Fair Scholarship, allowing a bookseller from the store to attend the Frankfurt Book Fair.
Applying for the scholarship, Paliobagis recalled, was very simple: all Country Bookshelf had to do was let Europa Editions know that the store was planning a release party for Frantumaglia: An Author's Journey, a new collection by Elena Ferrante slated for release on November 1. In early August she learned that the store had won.
"One of my staff came back with the phone and said, 'Someone from Europa wants to talk to you,' " Paliobagis said. "I didn't believe it at first. I really did not quite believe it."
Paliobagis called the prospect of navigating a show that was described to her as around 10 times the size of BookExpo America "daunting, but exciting. And I'll do it with the knowledge that the people around me have been there and know how to navigate it." She will be in Germany for a total of about 10 days: she'll arrive the day before the fair opens and will have a few days afterward to see the sights.
Paliobagis plans to take lots of notes and lots of photographs, and some fellow Montana booksellers have already asked to have a "debriefing" with her once she gets back. She added: "I'll share what I've learned with any of my fellow booksellers." --Alex Mutter