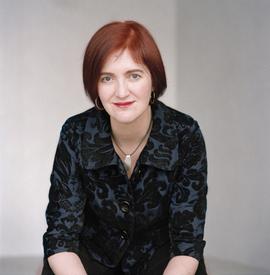 photo: Nina Subin
Born in Dublin in 1969, Emma Donoghue now lives in Canada. She writes fiction (short and long, historical and contemporary) and screenplays (Oscar-nominated for Room), as well as drama. The Wonder, set in Ireland in the 1850s, is her ninth novel (Little, Brown, September 20, 2016).

On your nightstand now:

Julian Barnes's The Noise of Time. Barnes is one of those reliably brilliant and surprising authors I'll buy in hardback because whatever he's come up with--set now or in the past, in England or France or (as this time) Soviet Russia--it'll be worth reading.

Favorite book when you were a child:

The Chronicles of Narnia by C.S. Lewis. A babysitter read them to me when I was very small, and I'm reading them to my kids (8 and 12) for the second time, though we're going to skip The Last Battle this time because when my daughter was five, it sent her into convulsions of horror to realize (spoiler alert!) that all the characters had been dead (without knowing it) since the first page.

Your top five authors:

Impossible. Sorry, it's like choosing my top five friends; the others would never forgive me.

Book you've faked reading:

I convinced myself that I'd read War and Peace in my teens, but when I went back to "reread it" in my 30s, I realized I'd only got a few chapters in; I never have managed to get past the Freemasonry section.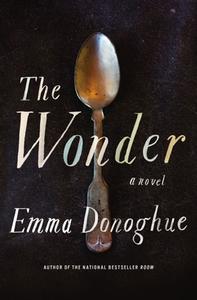 Book you're an evangelist for:

Hanya Yanagihara's A Little Life. Gruelling, yes, excessive, but I don't think I'll ever forget this story of friendship and the long shadow of a terrible childhood.

Book you've bought for the cover:

I never would: a beautiful cover's a great bonus, but I'm all about the words, however I access them (e-book, paper, audio...).

Book you hid from your parents:

Lesbian Nuns: Breaking Silence, edited by Nancy Manahan and Rosemary Keefer Curb. In fact, as a teenager, I hid any books with lesbian in the title.

Book that changed your life:

Jeanette Winterson's The Passion managed to wake me up to the fact that I could write about same-sex relationships in a literary rather than a lowbrow way; I didn't have to choose.

Favorite line from a book:

"Last night I dreamt I went to Manderley again." Opening line from Daphne du Maurier's memorably spooky Rebecca.

Five books you'll never part with:

The Complete Poems of Emily Dickinson
The Complete Fairy Tales of Brothers Grimm
The Complete Works of Shakespeare
Red Shift by Alan Garner
Great Expectations by Charles Dickens

Book you most want to read again for the first time:

Ann Patchett's The Magician's Assistant.