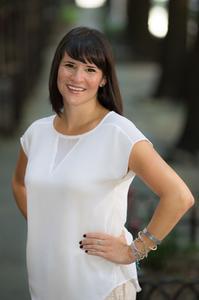 photo: Sai Mokhtari
Katie McKenna is a professional fund-raiser and stand-up comedian living in Brooklyn, N.Y. She writes a blog called Small Bites and Little Victories and is an expert on the best date spots in New York City. How to Get Run over by a Truck (Inkshares, October 4, 2016) is her first memoir.

On your nightstand now:

I've just begun reading A Course in Miracles by Dr. Helen Schucman, because during a conversation with a friend he told me that it changed his entire outlook on life, and then another friend mentioned how meaningful the book was to her. When I get two recommendations on one book, I need to start reading it! I just finished reading Sweetbitter by Stephanie Danler, and I loved it so much that I'm not ready to put it back on my bookshelf. I also have my journal on my nightstand. I have been keeping a diary since I was in second grade, and I love having it close by, either to write in or to read. Reading what was happening in my life a few months or a year ago always gives me such wonderful perspective.

Favorite book when you were a child:

I loved Little House in the Big Woods by Laura Ingalls Wilder. I would read it at least once a year during the winter. It is such an incredibly cozy book. I remember reading it and then cuddling into my covers, feeling safe and warm.

Your top five authors:

David Sedaris is an incredible storyteller, and is so hilarious. I've seen him live a few times, and he is as charming in person as he is in print. I adore Junot Díaz. The footnotes in The Brief Wondrous Life of Oscar Wao are brilliant, and his main characters' voices are always so clear and engaging. I am blown away by how Erik Larson is able to take moments in history and make them feel like they're fiction. I love that his work makes me gasp, and educates me about a period of time. Cheryl Strayed's writings have changed my life for the better, not only her memoir Wild, but also her compilation of "Dear Sugar" advice columns, Tiny Beautiful Things. Her writing makes me want to live a more beautiful life. Lastly, I'm in awe of the creativity that lives in Haruki Murakami's writing. I always feel transported when I read his work.

Book you've faked reading:

I've tried reading The Lord of the Rings by J.R.R. Tolkien about five times, but I just could never get into it. When asked by a first date if I had read it, I nervously blurted out that I had! Luckily it didn't work out with that guy so I didn't have to fake reading it for too long.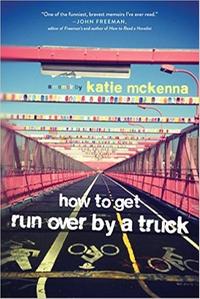 Book you're an evangelist for:

I recommend Wild by Cheryl Strayed to anyone looking for a good book. I think that she's an incredibly raw and honest writer, and her prose is stunning. Reading about her struggles, perseverance and spiritual awakenings while pushing herself beyond her limits is so inspiring.

Book you've bought for the cover:

I bought What I Was Doing While You Were Breeding by Kristin Newman. It was a combination of the beautiful photo from an airplane window, and the title, which made me laugh out loud. I love travel, and as a woman in her 30s who hasn't had any children, I knew that this book was right up my alley!

Book you hid from your parents:

I read Flowers in the Attic by V.C. Andrews when I was in sixth grade. There was an ungodly amount of inappropriate material for an 11-year-old, and it was the best!

Book that changed your life:

I bought Me Talk Pretty One Day by David Sedaris when I was living in Ireland, and while I was reading I thought maybe I could take my comedic writings and make them into short stories. It was the first time I had really thought that I could be a writer.

Favorite line from a book:

I read this line from "Dear Sugar" by Cheryl Strayed while on the L train and immediately started to cry: "Let whatever mysterious starlight that guided you this far guide you onwards into whatever crazy beauty awaits." Being reminded to lean into life is something that I want to be reminded of all of the time.

Five books you'll never part with:

The Secret Garden by Frances Hodgson Burnett was the book that gave me hope while I was in the hospital recovering from being run over by a truck. For some reason I thought that if Colin could find the strength to get up and out of his wheelchair, that so could I.

I have reread Traveling Mercies: Some Thoughts on Faith by Anne Lamott about six times now, because every time that I read it I feel reaffirmed in my own faith life. It reminds me that it's okay to not be perfect.

I read Great Expectations by Charles Dickens when I was in fifth grade, and it was the first time that I felt like I was getting a glimpse into the kind of books that adults read. It felt like I had achieved something by reading it, and every time I hold that book in my hands, I get that same feeling.

1Q84 by Haruki Murakami was such an excellent book that I actually cancelled plans so I could stay in and read it. If a book does that to you, you can't let it go!

The Lion the Witch and the Wardrobe by C.S. Lewis opened up a world of fantasy and beauty that made me feel like anything was possible. Any time I need that feeling, I open it up again and start reading.

Book you most want to read again for the first time:

Cleopatra: A Life by Stacy Schiff. It was so fascinating and so dense with information I was delighted with every page. I couldn't stop myself from talking about it all of the time.