The American Library Association's Midwinter Meeting & Exhibits in downtown Atlanta from January 19 to 24 had a dramatic backdrop: a torrential rainstorm, the presidential inauguration, the massive Atlanta March for Social Justice and Women, two basketball games, the Hot Chocolate 15K/5K run, plus the NFC Championship game between the Atlanta Falcons and the Green Bay Packers. Inside the Georgia World Congress Center, 6,079 librarians and other industry professionals, plus 2,916 publishers and other exhibitors, gathered to do their important work as the world cheered and jeered outside.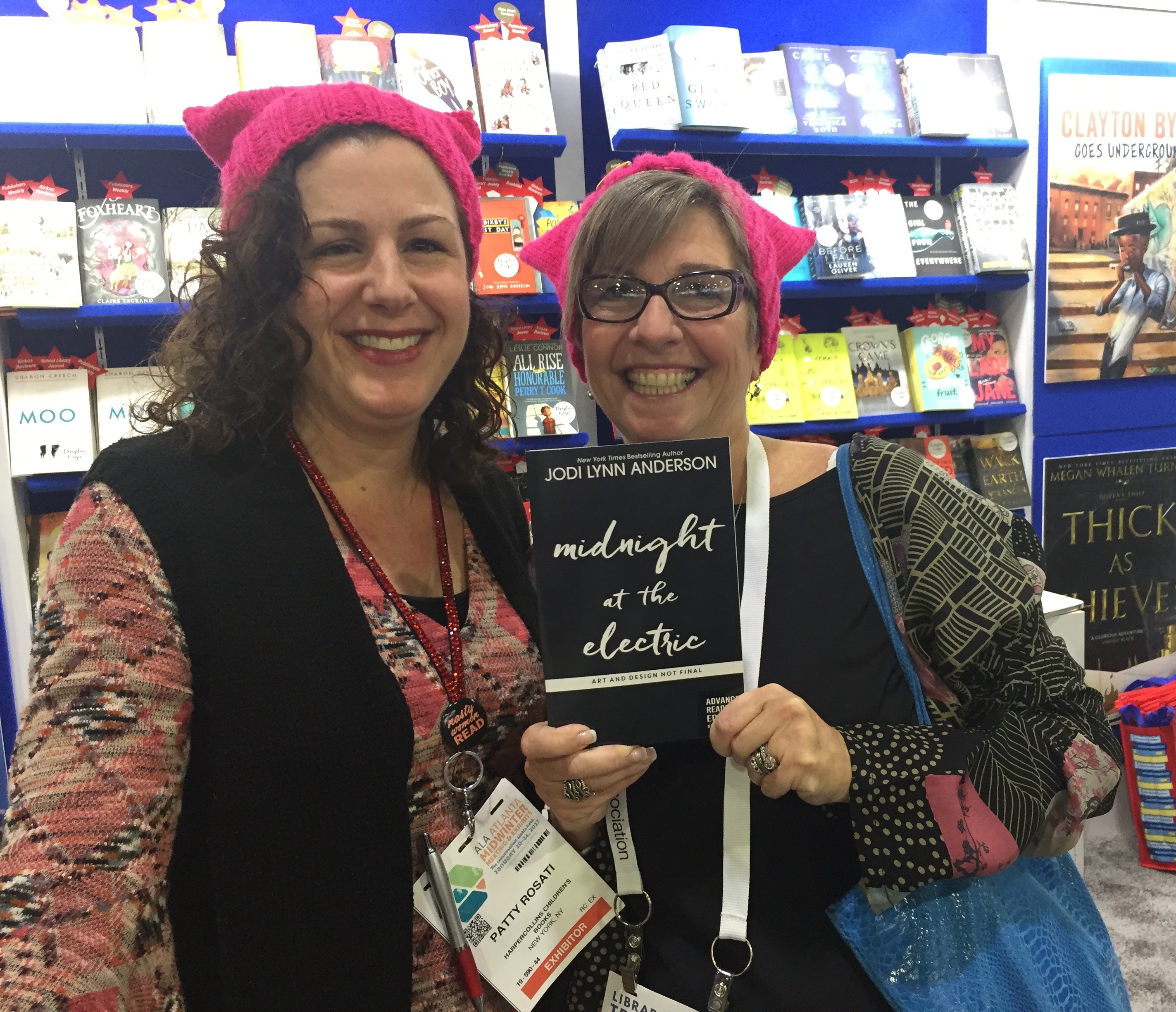 Patty Rosati, HarperCollins director of school & library marketing, with agent Rosemary Stimola.
Right up there, decibel-wise, with the shouts of marchers, runners and sports fans were the enthusiastic hurrahs of librarians rooting for their favorite children's and YA books at the Youth Media Awards on Monday morning--including titles winning Caldecott, Newbery, Printz and Coretta Scott King honors, and 15 other types of awards. In the crowded YMA auditorium there was a row of seats mysteriously reserved for "Lewis," leaving everyone buzzing about the possibility that Rep. John Lewis of Georgia's 5th District might show up. He didn't, but the book he co-created with Andrew Aydin and illustrator Nate Powell, March: Book Three (Top Shelf Productions)--the last of a graphic trilogy about his civil-rights activism--won an unprecedented four ALA awards that morning. (Lewis was at the conference, both speaking and signing books, however.) The complete list of Youth Media Awards winners is here; our interview with a thrilled Newbery winner Kelly Barnhill is here.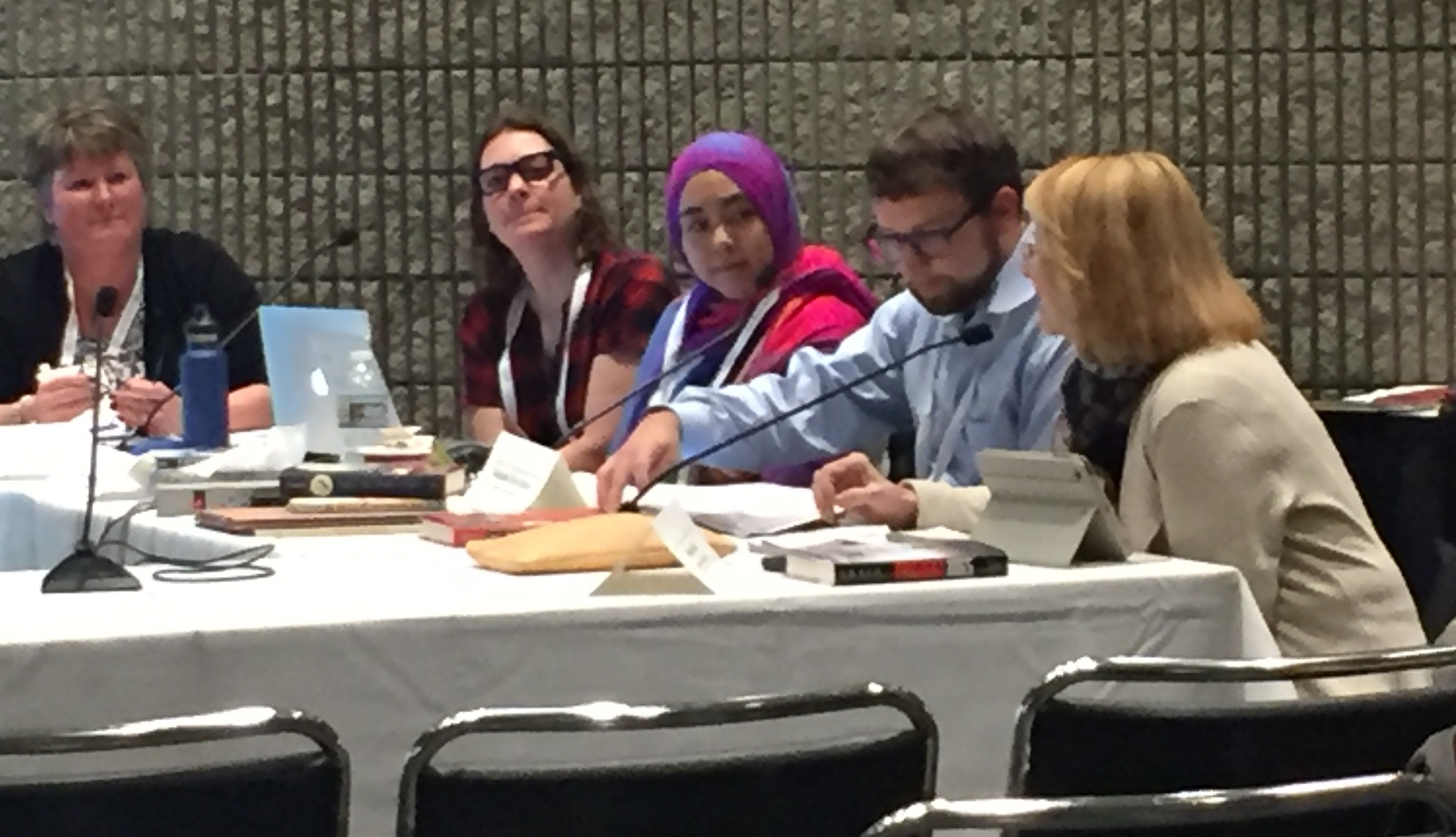 The Notable Children's Books committee at work.
ALA attendees and exhibitors worked and networked on the exhibit floor, in programs, in meetings and in closed-door sessions. One of the few awards committees that welcomes an audience (hello, curious editors) during their discussions is ALA's Notable Children's Books committee. The members choose dozens of titles from the entire year's offerings, and their final list of books, ranging in age from baby to age 14, is a wonderful, not-to-be-missed resource for teachers, librarians, book lovers and booksellers. Here is the list of books they discussed; their choices will be announced soon.
Engaging at the Best Fiction for Young Adults session.
Sometimes it's the small moments that make a conference memorable. In a 2017 Best Fiction for Young Adults session, a teenaged girl matter-of-factly stated that she had "compassion fatigue," given all the YA books that center around death and loss. Kwame Alexander inspired an auditorium full of people at the President's Program by saying we can disagree as long as we don't disengage; Connecticut librarian Stephanie Anderson raved about fantasy author Diane Duane in the food court below the CNN newsroom; editor Arthur Levine posed for a photo, kissing a book he loves, Emma Donaghue's The Lotterys Plus One; Newbery chair Thom Barthelmess's face lit up as he watched a YouTube video of a fifth-grade class's ecstatic, positively percussive response to his committee's medalist The Girl Who Drank the Moon (Algonquin); people had lively (disagreeing, not disengaging!) dinner conversations about whether children's books have a job to do.
It was a momentous weekend in Atlanta as the American Library Association made history of its own. --Karin Snelson, children's & YA editor, Shelf Awareness