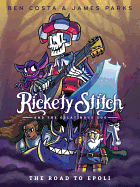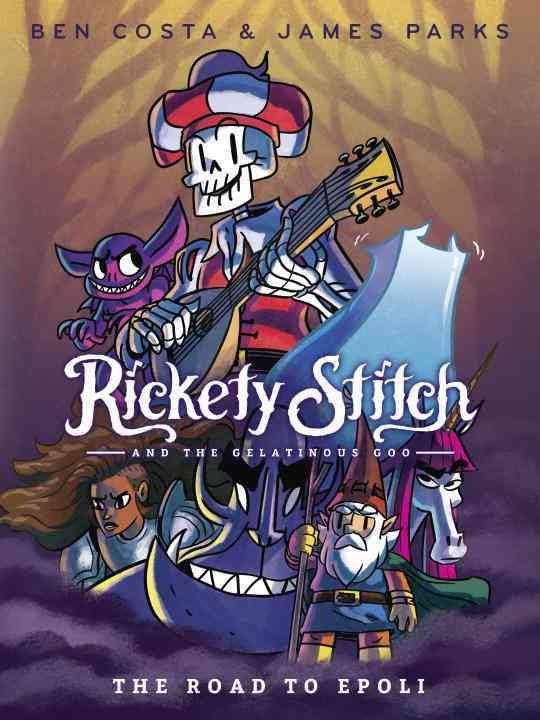 Rickety Stitch lives in a world of imps, unicorns and gnomes, but as a skeleton with a soul, he's the odd one out. Other skeletons are passive "workin' machines," but he's prone to dozing off, cracking wise and "inciting a mutiny with song and dance" in a way that makes corporeal humans nervous. After these and other bad habits lead Rickety Stitch and his friend the Gelatinous Goo to be unceremoniously fired from their job of de-rusting the iron maiden and cleaning the gut-wheel in the torture chamber of Subterranean Pits and Lairs LLC, they begin a quest to find out who Rickety was when he was alive. With little to go on but vague scraps of music, Rickety and Gooey are thrust into the vivacious and unruly world of Eem in search of Epoli, a place they know only through Rickety's dreams. The unlikely pair confound everyone they meet--both being the only one of their kind--including a tricky imp who offers to guide them. When the Goo is held hostage by "Ogre-Spawn of Gordak, Glutton King of Grimly Wood," Rickety must head out on a rescue mission that tests his devil-may-care temperament--the first in what could be a lengthy saga of self-discovery.

Costa and Parks have been creating Eem together for years online, and the solid world-building strengthens every panel of Rickety Stitch and the Gelatinous Goo: The Road to Epoli. Though Costa's full-color, jaunty illustrations may appeal to younger readers, due to a healthy dose of cartoon violence and adult humor ("I still have, like, six days of PTO left"), the book is definitely meant for teens and adults. The book is most compelling when the text and visuals balance each other out. From the start, with its first scene in the corporate torture chamber, it uses the interplay between the two to shift effortlessly between fearful darkness and upbeat irreverence. The goofy jokes leavened with existential musings recall Terry Pratchett and Patricia Wrede, and well-read fans of fantasy will appreciate the loving homage to the genre. "You are someone, Rickety Stitch. That much I know," the skeleton is told toward the end of the story. Rickety and his readers will have to wait for the second installment to find out who, and they'll likely be impatient to see the next steps of his journey. --Stephanie Anderson, assistant director for public services, Darien Library (Conn.)

Shelf Talker: Ben Costa and James Parks launch their skeleton bard and his gelatinous buddy on a grand graphic adventure that's just the right mixture of serious and silly.