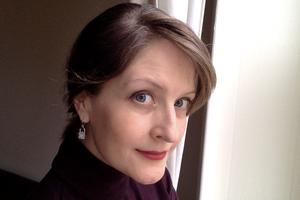 Greer Macallister is a poet, short story writer, playwright and novelist who earned an MFA in Creative Writing from American University. Her debut novel, The Magician's Lie, was a USA Today bestseller, an Indie Next pick and a Target Book Club selection. It has been optioned for film by Jessica Chastain's Freckle Films. Her new novel, Girl in Disguise (Sourcebooks, March 21, 2017), is about America's first female private detective.
On your nightstand now:
It's a mishmash for sure. The Invention of Wings by Sue Monk Kidd is on top, then The Book with No Pictures by B.J. Novak, which my kids are always sneaking into the pile so I'll read it to them yet again. Then there are two advance copies of novels that haven't come out yet, which I always feel so lucky to get my hands on: The Cottingley Secret by Hazel Gaynor and Club Deception by Sarah Skilton.
Favorite book when you were a child:
Early childhood, I was extremely attached to The Monster at the End of This Book (ostensibly "by Grover"). Later on it was A Wrinkle in Time by Madeleine L'Engle, which I still re-read once a year or so.
Your top five authors:
At this point in my life it's more like top five books from the same author. All Margaret Atwood, all the time. Alias Grace and Lady Oracle are tied for the lead, and of course The Handmaid's Tale is a must-read, which I think everybody knows by now. Cat's Eye is up there, too. And when I read The Robber Bride for a grad school course and admitted to my professor that I didn't love it, she told me to read it again in my 30s and I might feel differently. I did, and I did.
Book you've faked reading:
I've never claimed to read something I haven't, but the first book I went to a book club meeting without reading was Marley & Me by John Grogan. I figured I'd fess up if someone asked, but no one asked! I have now realized this is a pretty decent life philosophy.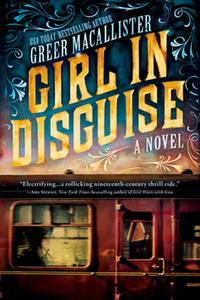 Book you're an evangelist for:
I adored H.P. Wood's novel Magruder's Curiosity Cabinet, which has the most compelling, original cast of characters I've encountered in a long time. It's this group of sideshow performers in turn-of-the-century Coney Island and what happens when death arrives on their doorstep. When people shrug off historical fiction as somehow lesser than other genres, this is the book I thrust into their hands and say, "Oh yeah? Read this."
Book you've bought for the cover:
Can anyone who's ever lived in New York City resist the cover of The Golem & the Jinni by Helene Wecker? A nighttime Washington Square: snowy, hazy, haunted. It pressed all my buttons.
Book you hid from your parents:
Never had to. When I was home from college one summer my mom and I watched the entire series run of Peyton Place together because she'd had to hide the book from her own mom when it came out. Want your kids to love something? Forbid it.
Book that changed your life:
A Wrinkle in Time showed me how it was possible to build a world and pull your reader deep into it, with nothing more than words on a page. I've been building worlds with words ever since.
Favorite line from a book:
"I planned my death carefully, unlike my life, which meandered along from one thing to another, despite my feeble attempts to control it." First line of Margaret Atwood's Lady Oracle. Now that's an opener.
Five books you'll never part with:
I've moved house four times in the past three years, so I've definitely had the opportunity to test this. I've held onto hardcovers of The Poisonwood Bible by Barbara Kingsolver, Middlesex by Jeffrey Eugenides and American Gods by Neil Gaiman; one very heavy volume of the complete works of Shakespeare; and my copy of The Blind Assassin signed by Margaret Atwood.
Book you most want to read again for the first time:
I just finished reading The Murder of Roger Ackroyd by Agatha Christie, but I knew the identity of the murderer going in, which of course makes it much less fun. If I could get a highly targeted mind-wipe, I'd want to read it without knowing. Such a brilliant setup.
Your favorite detective, either historical or fictional:
I have a real soft spot for Lew Archer, a P.I. created by the incredibly talented Ross Macdonald. He's hard-boiled but poetic. Macdonald explores so much rich territory--class differences, questions of identity, innocence and guilt, the awful things people do to protect their secrets--and Archer is the perfect guide to this compromised world. Intelligent, dedicated, fiercely protective of the innocent. The Blue Hammer is probably the best of his books, and although it's last in the series, go ahead and read it first.