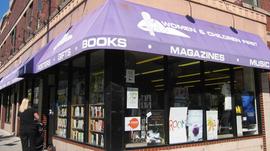 Newcity Magazine's "Lit 50: Who Really Books in Chicago" includes the owners, directors or founders of nine Windy City bookstores, and one of them--Sarah Hollenbeck, co-owner of Women & Children First, is on the list twice, both for her work at the store (cited along with co-owner Lynn Mooney) and as co-curator of the Conversation, the monthly cultural and political discussion held at the store formed in January in response to the Trump election.
Others on the Lit 50 list: Kendra Curry-Khanna, executive director of 826CHI; Suzy Takacs, owner of the Book Cellar; Nina Barrett and Jeff Garrett, owners of Bookends & Beginnings; Stacy Ratner, founder of Open Books; Eric Kirsammer, owner of Quimby's Bookstore and Chicago Comics; Jeff Deutsch, director of the Seminary Co-op Bookstores; and Rebecca George and Kimberly George, owners of Volumes Bookcafe.
In its introduction to the list, Newcity wrote: "The literary community of Chicago has long responded to political and social change and this year is no exception. Public funding is being stripped from arts, humanities and science institutions that foster America's generative creativity and imagination. In anticipation, writers, bookstores and literary enterprises began the year with Writers Resist, a citywide flexing of creative voices against a president who has made clear his narrow and faulty view of Chicago. It's a year where independent bookstores, when confronted with Amazon's brick-and-mortar plans, banded together to remind readers and consumers that buying local helps retain communities. It's a time when the first national museum dedicated to writers comes to town, when the city comes together to celebrate the centennial of the late Pulitzer Prize winner and Poet Laureate Gwendolyn Brooks, when young people gain sustenance from the biggest slam poetry festival in the country and our independent publishers continue to shape conversations across the nation."