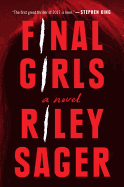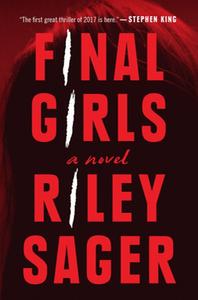 Riley Sager uses the slasher movie trope of the "final girl" (the lone female who manages to survive and escape the killer) as the foundation for a nail-biting thriller.

Quincy Carpenter. Samantha Boyd. Lisa Milner. Even though the three women have never met in person, their names are inextricably linked as the Final Girls, lone female survivors of mass murders so gruesome they rival big-screen slasher flicks. Quincy lost five college friends, including her boyfriend and best friend, in a bloody massacre during a getaway to remote Pine Cottage. Samantha disappeared from public life after living through the Sack Man's rampage at a motel where she worked, but Lisa wrote a popular book about surviving the trauma of the sorority house murders she escaped. Quincy, however, happily remembers almost nothing from the night of Pine Cottage. Her strongest memory is of Coop, the police officer who shot the knife-wielding killer in the head to save her life. Years later, Quincy's successful baking blog, stable relationship with her compassionate boyfriend, Jeff, and rejection of the Final Girl label allow her to tell herself that she's left Pine Cottage behind--aside from the occasional phone call or meeting with Coop. When Lisa Milner dies under suspicious circumstances and Sam Boyd turns up on her doorstep, Quincy can no longer run from her past or the questions that still surround the Pine Cottage Murders.

Part thriller, part horror story, Final Girls borrows riffs from Friday the 13th, Halloween and Single White Female, but remains its own sophisticated creature. As Quincy's past resurfaces, she wonders what really happened at Pine Cottage; Sager throws out plenty of plausible possibilities while keeping the whole truth neatly under wraps. Although the story's inspiration is pure camp, Sager takes on the heavy theme of trauma survival thoroughly and with due seriousness. While a final girl's tale in a movie usually ends with survival as success, Quincy, Lisa and Sam have to live with and fight their demons. Quincy's coping mechanisms include pill popping and shoplifting; her veneer of normalcy hides darker currents of anger and guilt, which Sager uses to propel the plot and wind tension to the breaking point. Moreover, third-person chapters detailing the lead up to the Pine Cottage Murders interrupt Quincy's first-person passages, so that as she comes closer to remembering the tragedy, the reader marches toward the truth beside her. Taut and bloody, this chilling mystery invites Gillian Flynn comparisons. Readers should prepare to sleep with the lights on. --Jaclyn Fulwood, blogger at Infinite Reads

Shelf Talker: In a reality where horror movie-style slasher sprees really happen, a survivor must face her past when other "final girls" are in danger.