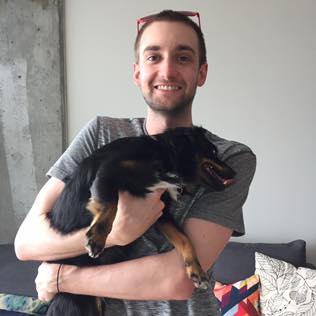 Alex Brubaker
Alex Brubaker, manager of the Midtown Scholar Bookstore, Harrisburg, Pa., has won the 2017 Joe Drabyak Handseller of the Year award, sponsored by the New Atlantic Independent Booksellers Association to honor the late NAIBA president and recognize "booksellers who put their passion for books into practice with marketing and promotions."

"I'm thrilled and honored to be selected as the NAIBA Handseller of the Year," Brubaker said. "There's no better feeling as a bookseller than connecting readers with good books--but to be recognized by a community of established booksellers is something else entirely. I have to give a huge thanks to the owners of the Midtown Scholar Bookstore, Catherine Lawrence and Eric Papenfuse, for recommending me."

NAIBA wrote that Lawrence credits Brubaker with "redefining their 14-year-old store as one of used, rare and out-of-print to one with a diverse and compelling collection of new releases that are handpicked by Brubaker. His tables, shelf displays and recommendations are fun and engaging, and the store's social media is filled with shout-outs to Brubaker's exceptional work by astounded and delighted customers. Lawrence says the proof is in the sales figures. Since Brubaker started at the store just nine months ago, new book sales have topped all other income, 'an extraordinary transformation of the store's role in the community, and an indicator of Alex's keen ability to know just how to satisfy the ever-growing new-book-desires of local customers and bookstore-tourists alike.' "

Lawrence said that Brubaker "demonstrates a tremendous passion for books and is himself an exceptionally gifted writer and reviewer, eager to share the best new book you should be reading on any topic. He's committed to finding ways to change our midstate's culture to value the best new writing. It's not enough, for him, to spread the books on the tables--he is bringing young, edgy debut authors to town, and introducing them to an ever-widening group of eager readers, of all ages."

Before joining Midtown Scholar Bookstore, first as a junior staffer and events coordinator and now the store manager, Brubaker was the editorial assistant at Rain Taxi Review of Books and the exhibit coordinator for the Twin Cities Book Festival in Minneapolis, Minn.

Brubaker will be honored at the Awards Banquet at the NAIBA Fall Conference on Saturday, October 7, in Cherry Hill, N.J.