"This has everything to do with how we look at women, period," said Arpita Das, chief executive of Yoda Press in India, during a panel at the Frankfurt Book Fair last week that brought together five women who all hold high-level positions in the global publishing industry. They discussed challenges facing women in the industry, the relative scarcity of women in executive positions despite making up the majority of the publishing workforce, things that have helped them in their own careers and more.
"It's not happening in a vacuum," continued Das. A common thread throughout the discussion, and a sentiment shared by many of the panelists, was that this was not a publishing-only problem, but a facet of larger societal issues. "Unless we bring up our boys to believe that girls should have exactly the same opportunities that they do, from primary education level onwards, this is going to happen in every industry."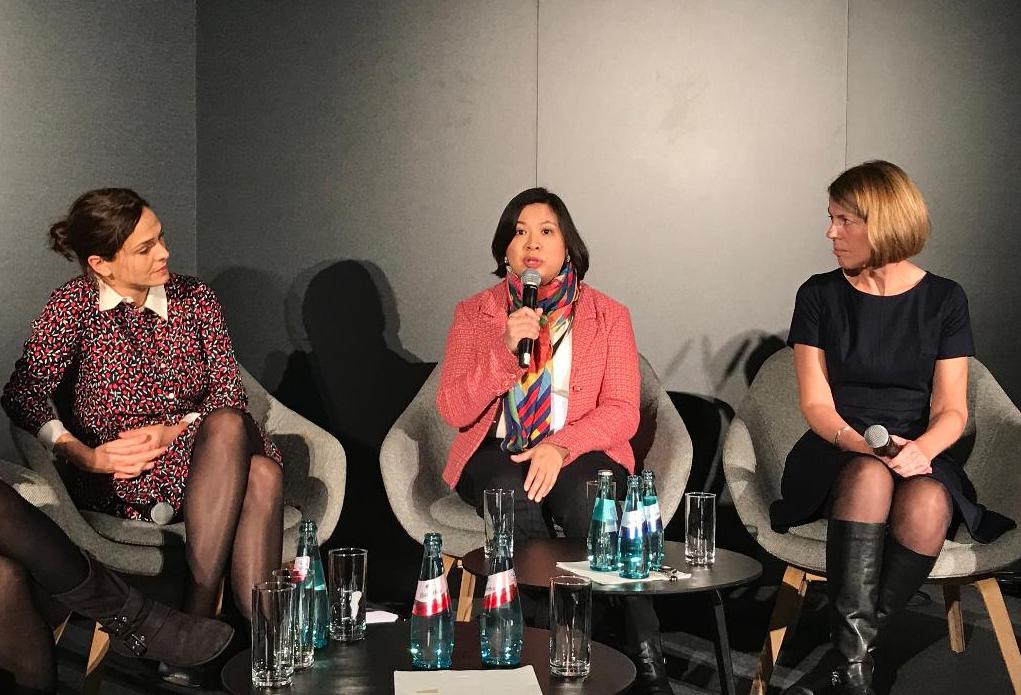 Sophie de Closets, Xandra Ramos-Padilla and Tracey Armstrong
In addition to Das, the panelists included Vicky Williams, chief executive of Research Media, part of Emerald Group Publishing in the U.K.; Sophie de Closets, chief executive of Fayard in France; Tracey Armstrong, publisher and chief executive of Copyright Clearance Center; and Xandra Ramos-Padilla, director of National Bookstore and president of Anvil Publishing in the Philippines. Jane Tappuni, general manager of IPR License, moderated the panel.
While discussing things that were key to her career, Armstrong advocated strongly for publishers giving more women the chance to "own" profit and loss. "I was very fortunate early in my career to become responsible for revenue," she said. "In many of our organizations, if we think about where power accumulates, it's usually around that revenue."
When asked if she thought that women sometimes have a tendency to hold themselves back in the workplace, Armstrong said that she did think it was a problem, but explained that she thought of it as a "societal" and "structural" one "ingrained in who we are, [as] men and women."
As part of a longer discussion about women and promotions, de Closets recalled being appointed as chief executive of Fayard by Arnaud Nourry, the chief executive of Hachette Livre, while she was on maternity leave. The promotion had been brought up before de Closets went on leave, but at the time she had refused, thinking she couldn't handle it. After Nourry appointed her to the role, she was surprised and remembered thinking: "Well, I'm not the one who's going to undermine their confidence in me. And that's typical women."
Armstrong reflected that when it comes to promotions women are generally "doing the job before they get the promotion, when men are getting the promotion and learning the job." She also remarked on the tendency of younger professional women to show a lot of self doubt when it comes to accepting promotions. She advised young women simply to "take the job," while Tappuni agreed, paraphrasing Richard Branson: "Take the job, work it out later."
Williams described the creation of Emerald Publishing Group's internal gender diversity program, called Stride. After noticing the lack of gender balance at senior levels, Williams recalled bringing up the issue with her male board colleagues with "some trepidation." But her colleagues were supportive, and Stride has been active since February 2016. "This is not about quotas; there's not one woman I know that wants to be making up the numbers," said Williams. She added that it was about creating the right environment, developing skills and "developing the dialogue internally so that whatever that real or perceived glass ceiling is, that we start to chip away at it."
Ramos-Padilla talked about the origins of her family's bookstore chain, National Book Store, which was founded in the Philippines by her grandparents after World War II and led by her grandmother for years. Ramos-Padilla described being recruited by grandmother "straight out" of her college graduation dinner and learning from her grandmother how to run both a publishing and bookselling business. Compared to other panelists, she said she hadn't really experienced much of a glass ceiling. Said Ramos-Padilla: "As a woman I think it's all about finding our authentic voices, our own unique style of leadership, and supporting each other in work." --Alex Mutter