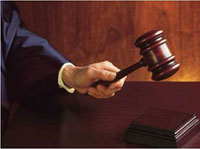 California state lawmakers have exempted bookstores from a requirement that "sellers of items that carry their creator's autograph include a certificate guaranteeing that the signature is authentic," the San Francisco Chronicle reported. AB228 by Assemblyman Todd Gloria, D-San Diego, passed both houses without a dissenting vote and has been signed by Governor Jerry Brown. The law takes effect immediately.
Earlier this year, Bill Petrocelli, co-owner of Book Passage--with stores in Corte Madera, Sausalito and San Francisco--filed suit against a state law that, the plaintiffs said, "will make it extremely risky, if not impossible, for stores to sell autographed books or host author events." Assembly Bill 1570 had expanded the state's autograph law, which originally applied only to sports memorabilia, to cover any signed commodity worth more than $5, including books.
AB228 "narrows that requirement to apply only to sports and entertainment collectibles, and expressly excludes books, manuscripts, correspondence, art work and decorative objects. It also raises the minimum price of items requiring autograph certification from $5 to $50," the Chronicle wrote.
"We filed the case in order to spur the Legislature not to repeal the law, but to modify it again to exempt signed books, which is what we wanted all along," Petrocelli told the Marin Independent Journal. "I'm relieved that common sense prevailed and this bureaucratic nightmare has been repealed for booksellers.... I think this case, as crazy as it was going through it, was probably worth it in terms of articulating to everyone how important it is for authors and readers to get together and bookstores are the spot where that happens."
Pacific Legal Foundation attorney Anastasia Boden commented: "The repeal of these regulations is a major victory for freedom of expression--for authors, store owners, and patrons alike," said. "It means book sellers like Bill can once again host discussions between authors and patrons without confronting mountains of unjustified paperwork and risking ruinous fines."