Attendance figures at the Frankfurt Book Fair reflected trends at other book fairs, including BookExpo: while attendance on the days the general public could participate rose 6.5%, attendance on the three trade days fell 0.2%. Altogether more than 286,000 people attended the fair this year; 7,300 exhibitors from 102 countries participated.
This year's fair had a striking political tone, much of it in reaction to the election of Donald Trump as president, the passage of the Brexit referendum in the U.K., the rise of extreme rightwing parties in Europe and increasingly authoritarian regimes around the world.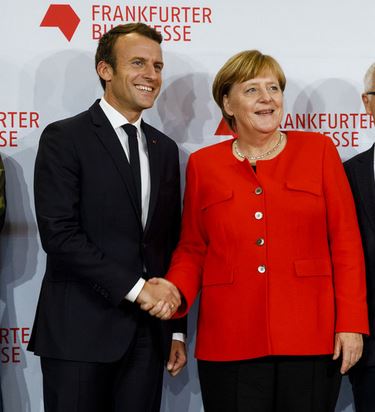 President Macron and Chancellor Merkel
(photo: Frankfurt Book Fair/Marc Jacquemin)
Politics infused everything from comments at the opening ceremony by German Chancellor Angela Merkel and French President Emmanuel Macron to controversies about extreme rightwing German publishers exhibiting at the show to comments by guests and award winners.
Merkel praised books for "opening doors into lives and experiences we would never have" otherwise, for broadening horizons and helping "us to understand cultures, also our own." She added that books needed fixed prices and bookstores need to be supported--one reason the German government has an annual bookstore award.
She also referred to her own past in the former East Germany, saying, "To have once experienced not being able to read every book that you would like to read leads you to fight so that everyone can read every book that they want to read."
Macron stressed the importance of multilingualism, "which has made our culture strong." He also praised translators whom "no software can ever replace." In the political sphere, he added, "Books are the best weapons against those who try to build walls between people and foment fanaticism."
During the fair, some Americans received concerned, diplomatic queries from international friends and colleagues, who, it seemed, eventually would ask, "How are you?" or the more straightforward "How are you surviving Trump?"
Some American publishers found the rights market internationally similar to that in the U.S.: dystopian fiction and serious nonfiction about the political situation are very popular while general literary fiction lags. But for at least some Americans, there wasn't as much opportunity to sell rights as expected. As one publisher put it, "Each market abroad wants nonfiction about its own political situation, such as Brexit in the U.K. And as for dystopian fiction, many countries are going with the tried and true, like 1984 and The Handmaid's Tale."
To the consternation of many German attendees, several extreme right-wing presses had stands. Fair director Juergen Boos explained: "We decidedly object to the political views and publishing activities of the New Right, but as host of the largest international fair for books and media, we're obligated to provide the basic right of free expression." He acknowledged that there were fistfights that police had to break up, particularly when Björn Höcke of the far-right Alternative for Germany party made an appearance and when right-wing press Antaios Verlag presented the book Living with Leftists by Caroline Sommerfeld and Martin Lichtmesz.
---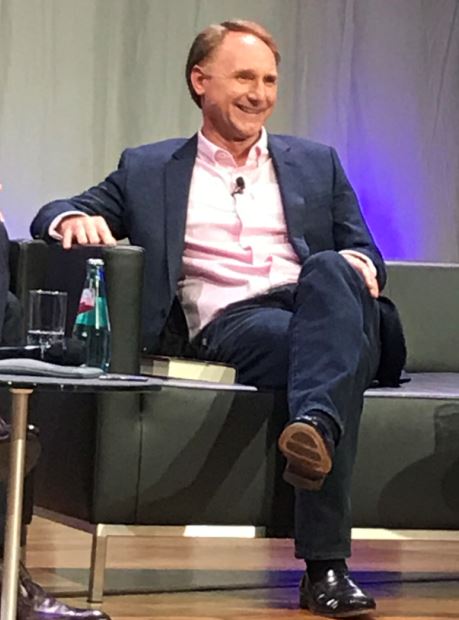 Dan Brown
On Saturday evening, in an unusual event that the fair hopes will be repeated with other popular authors, Dan Brown spoke in front of a crowd of 2,000 fans about his new book, Origin (published here by Doubleday), his writing and other topics. He said that in the new thriller, set in Spain and once again starring Harvard professor Robert Langdon, he wanted to answer the question, "Will god survive science?" adding, "Historically gods have not survived science."
Asked by interviewer Alf Mentzer of hr2-kulturabout why he, an American, has set so many of his books in Europe, Brown paused a moment, then said, "Have you been to Europe? It's amazing." After the laughter and applause subsided, he explained that he studied and loves renaissance art, and "You have a lot more of it." The United States, he continued, is "a young country. We made a few mistakes recently, but this, too, shall pass."
---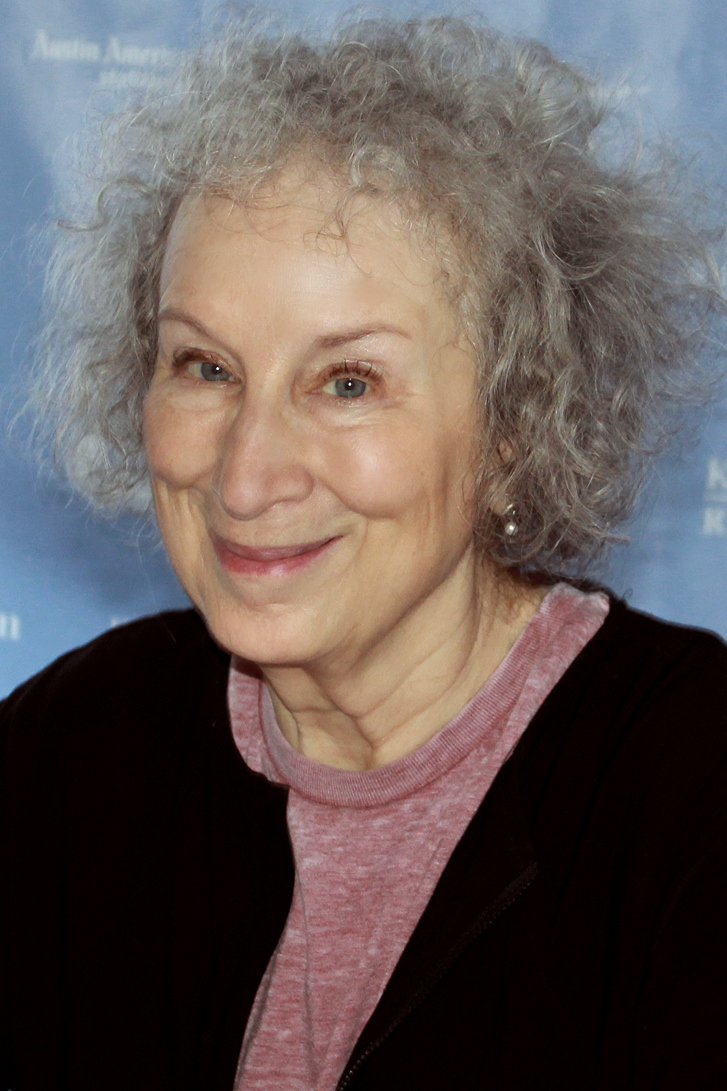 Margaret Atwood
In another event that was particularly political, the Peace Prize of the German Book Trade was given to Margaret Atwood, who was cited by organizers this way: "By closely observing human contradictions, she shows how easily supposed normality can turn into inhumanity. Humanity, justice and tolerance shape Margaret Atwood's approach to the world."
At the prize ceremony on Sunday, Atwood expressed dismay over the political situation in the United States, which she said once was a symbol of freedom and democracy--but "no longer." Things have gotten so bad, she continued, that her 30-year-old novel The Handmaid's Tale suddenly is topical. "Parliaments controlled by men want to set the clock back--preferably into the 19th century."
She said the world is in "strange historical times.... We don't know exactly where we are. We also don't know exactly who we are."
Frankfurt mayor Peter Feldmann said the choice of Atwood was a reminder of the political dimension of art, adding, "The world needs less division, less Trump, less hate--and more tolerance and solidarity."
The other major book prize given at the fair was the German Book Prize, won by Robert Menasse for Die Haupstadt (The Capital), published by Suhrkamp, set in Brussels, the unofficial European Union capital. The prize is sponsored by the Börsenverein, the German book industry association, and honors the best German-language novel of the year. --John Mutter