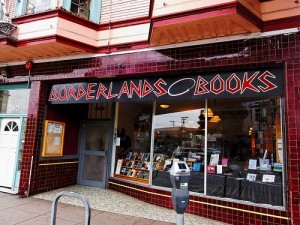 Borderlands, the San Francisco, Calif., science fiction, mystery and horror bookstore that nearly closed two and a half years ago, has made an offer to buy a building and has launched a campaign to raise $1.9 million in loans from customers, the San Francisco Chronicle reported. After eight days, Borderlands has raised $500,000 and another $300,000 "is pending."

In 2015, owner Alan Beatts had planned to close the store, but after customers rallied in support, Borderlands created a sponsorship program; the $100 annual membership includes a range of benefits. The store has a minimum of 300 sponsors.

There is no rush to move: Borderlands still has three years left on its current bookstore lease and eight years on its café lease.

In a blog post last week, Beatts wrote in part, "The sponsorship program that we started in 2015 caused a major shift in how I viewed the business. Previously I had considered it my personal project; one that I would stop either when I could no longer do it or when I died. But, after so many people were willing to contribute to allow it to continue to operate, I began to see it more as a public trust than something that was solely my possession.

"With that attitude change, I began to look for a way to ensure that Borderlands could continue to operate after I was unwilling or unable to run it. The conclusion that I came to was that the first and biggest obstacle to that sort of longevity was the perilous nature of commercial rentals in San Francisco. Having realized that, a year and a half ago I began working with a realtor to find a building that could house the store and that we could afford. The first part was easy, the second not so much so."

He said the possible future building is "a three-story Victorian built in 1902. There are two flats upstairs and a retail space on the ground floor. There is also a backyard and a full basement. It's located just a bit east of Masonic Ave. [at 1373 Haight]. It's a little bit smaller that our current spot but, by putting the office and storage in the basement and being smarter with the layout, I think we can fit all our current stock and more. Sadly, there is no room to accommodate the cafe. (Please note--that does not mean I'm planning on closing the cafe.)...

"Currently it's the location of Recycled Records but, when we move we're not going to displace them. The owner of the record shop owns the building and he's planning on retiring. He'll be closing up shop and moving out shortly after the sale closes."