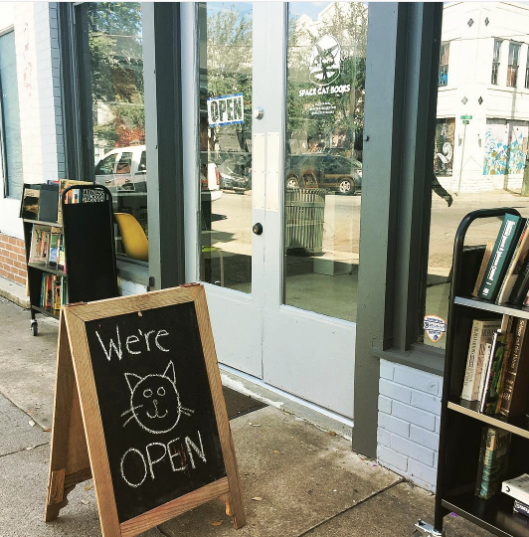 Space Cat Books, offering new and used titles, opened earlier this month next door to its sister store, Starlandia Creative Supply, in the Starland district of Savannah, Ga. District reported that Clinton Edminster, owner of both businesses, "can be found hopping from one store to the next." A grand opening is tentatively planned for November 3.
"We had a surprisingly good day the first day we opened our doors," he said, adding: "It's interesting to me, because we have a lot of energy in Starlandia, it's a very energetic store, so you need to have an equal amount of energy to go in there. But a bookstore, and what I'm trying to do here, is much more calm. So, I feel people are more inclined to just walk in."
Space Cat Books "was only a concept in the works for about two months before it was fully realized," District noted. Edminster had been renting out the space next door for various events, but said he "really felt like it needed A Thing That It Was. We've got the stage still, but we needed to know what it was first and foremost. A bookstore."
Although Starlandia had been offering some titles, Edminster acknowledged that "we were doing a terrible job of selling books, because it is an art store. So that was the thing: I've got an interest in books, I've got a place to sell books, and we have books. All of a sudden it just seemed very obvious to do it."