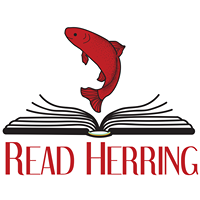 NewSouth Bookstore in Montgomery, Ala., has changed its name to Read Herring bookstore, a play on the term "red herring," WAKA reported, adding that the owners made the move "to differentiate the store from the NewSouth publishers, which is in the same location."
"We just want people to come and see the new store, see the new changes that we've made. If they've been in the store in the past--we've made some updates and upgrades. But it still has that vintage, comfortable feel," said managing partner Brandie Johnson.
The name change became official Monday. Earlier this month on NewSouth's Facebook page, the owners explained: "Plans for re-launching the NewSouth Bookstore are well underway with the creation of a new logo featuring Harry, a big, red fish. In just three weeks, our store will be called the Read Herring. The change is all part of a strategy to strengthen the identity of the bookstore and to make it more of a community hub, with more new and used books to browse (lots more) and more author talks and other fun events to enjoy. Don't be a stranger!"