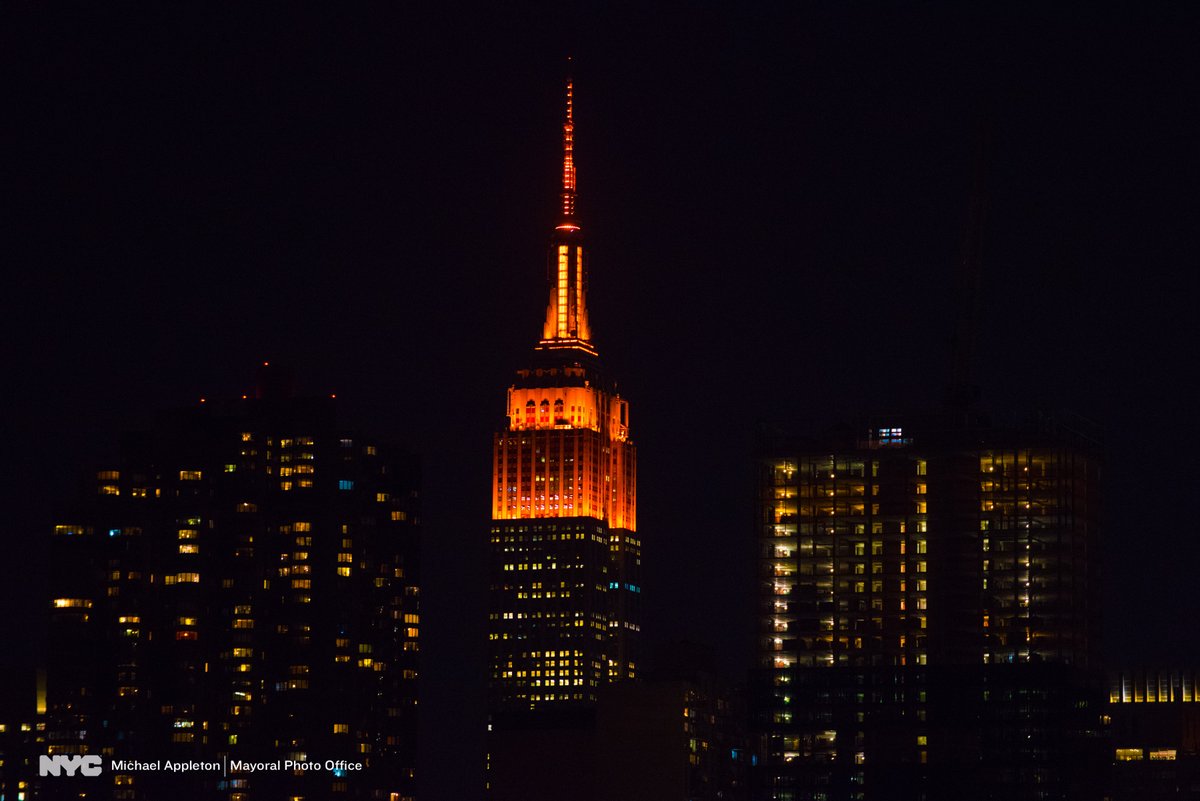 New York City turned the lights Amazon orange in support of its bid for HQ2.
Over the years, it's been sad and infuriating to see state and local governments hurl themselves (and taxpayers' money) at Amazon. That dynamic reached a new high--or low--in the past weeks, as Amazon solicited bids from municipalities to be the site of another headquarters for the company, which apparently is outgrowing Seattle. The frenzy included one town in Georgia that offered to rename itself Amazon, while the mayor of Kansas City, Mo., bought a thousand products on Amazon that were made in his city and gave them all--and Kansas City--great reviews. The more typical approach was that of Newark, N.J.: the state and city are offering Amazon up to $7 billion in tax incentives.

Some 238 cities and regions from across North America made bids for HQ2, which Amazon said will include 50,000 jobs, with an average pay of more than $100,000 a year. The company says it expects "to invest over $5 billion in construction" and that its "direct hiring and investment, construction and ongoing operation of Amazon HQ2 is expected to create tens of thousands of additional jobs and tens of billions of dollars in additional investment in the surrounding community."

But, as is its tradition, Amazon seeks a range of breaks and gifts before it will deign to build its second headquarters in the host location. In its RFP, the company asked bidders to "identify incentive programs available for the project at the state/province and local levels. Outline the type of incentive (i.e., land, site preparation, tax credits/exemptions, relocation grants, workforce grants, utility incentives/grants, permitting, and fee reductions) and the amount."

The HQ2 bidding prompted the Hill to look back at Amazon's track record in receiving "incentives." It noted a Washington Business Journal report that Amazon "has secured more than $1.2 billion in incentives and breaks from state and local governments over the years." Among examples:
Texas forgave a $269 million sales tax bill the company owed after it pledged to spend $200 million on new facilities in the state, which brought 2,500 new jobs.
Illinois officials gave the company $82 million in tax credits.
The Ohio Tax Credit Authority approved a package of $81 million over the course of 15 years.
Kentucky officials offered $75 million for Amazon to expand operations at the Cincinnati/Northern Kentucky International Airport in exchange for 600 new jobs that average $26 an hour.
The Hill quoted Greg LeRoy, executive director of Good Jobs First, who said, "This is a textbook auction. This thing is going to be taught in business schools. The risk is that somebody's going to overspend to pay Amazon to do what they were already going to do anyway."
For detailed studies on Amazon's effect on cities and towns, we recommend the Institute for Self-Reliance's Amazon's Stranglehold: How the Company's Tightening Grip is Stifling Competition, Eroding Jobs, and Threatening Communities and the American Booksellers Association-Civic Economics' study Amazon and Empty Storefronts.