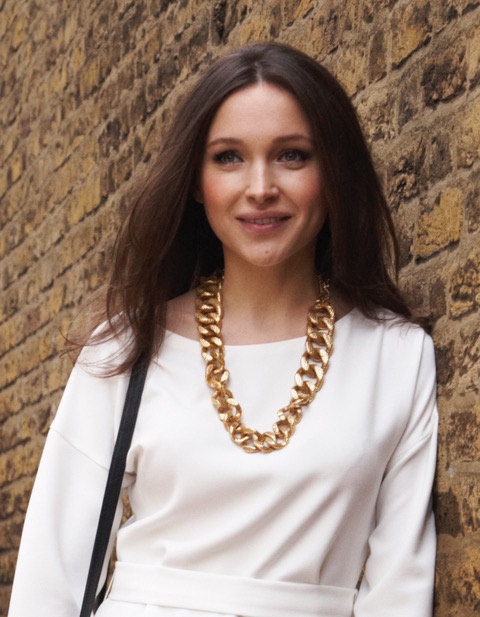 photo: Billie Scheepers
Francesca Hornak is a British author, journalist and former columnist for the Sunday Times. She has written two nonfiction books, History of the World in 100 Modern Objects and Worry with Mother. Her debut novel, Seven Days of Us, was published by Berkley on October 17, 2017.

On your nightstand now:

The Wild Other, a memoir by Clover Stroud, whose mother was brain damaged in a riding accident in the '90s, when Clover was 16. It's a beautifully written, moving account of living with trauma and coming to terms with loss. I rarely read memoirs, but I was drawn to this because I've enjoyed Clover Stroud's journalism. She's intrepid, and as a borderline-hermit myself, that was fun to read.

Favorite book when you were a child:

All the Little House books by Laura Ingalls Wilder. I really liked the mundane domestic details. I'm still quite taken with the idea of log cabins and pioneer wagons, and making maple syrup in tree trunks.

Your top five authors:

Jennifer Egan for her acute observation, Nick Hornby for his humour and humanity, Candace Bushnell for gritty glamour, Nora Ephron because reading her feels like chatting to a friend and Tom Rachman--I've just finished and loved The Imperfectionists.

Book you've faked reading:

Beowulf. I had to study Old English as part of my English degree at Oxford (really annoyingly I was the last year to have to do this). I've never found accounts of battles very interesting, and trying to decipher a garbled Welsh-German hybrid didn't help.


Book you're an evangelist for:

Hangover Square by Patrick Hamilton should be better known than it is. It's brilliantly sordid, all about failed actors and day drinking in 1940s London. Any recent graduate should also read The Best of Everything by Rona Jaffe-- the original Girls/Mad Men.

Book you've bought for the cover:

The Lubetkin Legacy by Marina Lewycka, which lived up to its excellent cover.

Book you hid from your parents:

Swan by Naomi Campbell. I raced through it on holiday aged 14, but I can't remember anything apart from a description of a model brushing her teeth very fastidiously, and a sex scene in a taxi.

Book that changed your life:

I'm not sure any book has changed my life, but many narrators have stayed with me. Humbert Humbert's voice in Lolita was hard to shake off, and showed me that a protagonist needn't be likable to be readable. Notes on a Scandal by Zoë Heller and The Talented Mr. Ripley by Patricia Highsmith are compelling for the same reason.

Favorite line from a book:

"All perfectly true, no doubt, but not the sort of thing to spring on a lad with a morning head," from Jeeves Takes Charge by P.G. Wodehouse. My uncle, the actor Jonathan Cecil, recorded loads of Wodehouse audiobooks and they're my ultimate comfort listening. There was a stage when my whole family (all insomniacs) used to play them on a loop all night. If someone had broken in at 3 a.m., they'd have been surprised to find a house echoing with Bertie Wooster.

Five books you'll never part with:

Theresa's Choice by my grandmother Rachel MacCarthy. This was the only novel she wrote, about a girl choosing between three men. It's very funny and fast paced, but the reason it's special to me is that she died when I was a baby, so reading her novel is the closest I can get to meeting her. I'd also be sad to part with The Diary of a Nobody by George and Weedon Grossmith, Fifteen by Beverly Cleary, Jane Eyre by Charlotte Brontë and All God's Children Need Traveling Shoes by Maya Angelou.

Book you most want to read again for the first time:

The Catcher in the Rye. When I first read it, I had that electric "This could be by me!" feeling. But when I re-read it in my 20s, I didn't identify with Holden Caulfield in the same way, and it felt a bit sad. I'd love to be a contrary 16-year-old reading Salinger for the first time again.

Book you wish you'd written:

Lord of the Flies by William Golding. It would be thrilling to write a book and see its title become shorthand, the way Golding's has.