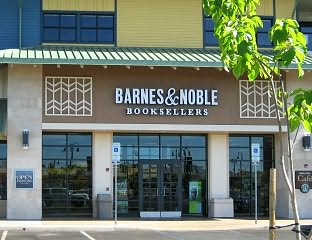 Barnes & Noble, which announced earlier this week that it would be closing its store at the Lahaina Gateway Center on Maui, will remain in business at the location beyond that point with a new lease while the company explores other options. The Maui News reported there "was a reported difficulty between the bookstore and center management on a new lease that surfaced last week," but store manager Cindy Mauricio said she was halting all of her closing processes for now per order of her district manager.
"We are not foreseen to close. We are back in business," she added. "It won't be happening. I'm very, very, blessed."
Wendy Laurel-Sheveland, whose 15-year-old daughter, Hannah, started an online petition, "Keep Barnes and Noble in Lahaina Open!" to save the bookstore, said they had received an e-mail from B&N's corporate real estate division "saying that the lease was not long term and that the company was exploring other options for Maui."
"I think they are feeling the pressure," she noted. "Hannah is getting a lot of momentum now, I wouldn't want us to celebrate too soon."
On Monday, Jim Lampassi, v-p of real estate development for B&N, had said, "We had no intention of leaving the Lahaina Gateway Center. That decision rests solely with the landlord. Maui is a strong market for Barnes & Noble, and we have every intention of reopening there."
Mauricio commented: "I think this was an amazing community effort.... I'm just so happy Maui is Maui. The community pulled together. They made this happen."