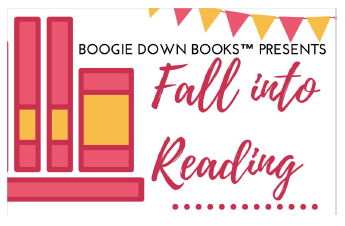 As part of an effort to open Boogie Down Books, a bookstore for children and teenagers, in her Mott Haven neighborhood in the South Bronx, N.Y., educator Rebekah Shoaf opened a pop-up location on Saturday. It was the first part of Boogie Down Books' Fall into Reading, "a month-long celebration of youth and community literacy" that is being staffed by more than 30 volunteers with funding from the Citizens Committee for New York City, whose Neighborhood Grant program offers micro-loans of up to $3,000 for resident-led community projects.

On Saturday, 200 free copies of six titles were distributed at the pop-up bookshop to young people ages 11-18 and their caregivers. Book clubs about the six titles will be facilitated by volunteer educators on November 4 and 18. The book clubs will be open to the young people and caregivers who received the books as well as to readers of all ages from the New York City area. Authors will join book club meetings both in person and remotely to discuss their books.

To promote Fall into Reading, Boogie Down Books is partnering with local school P.S./I.S. 224, where it held the popup store on Saturday; the Mott Haven branch of the New York Public Library for book club meetings; and the House of SpeakEasy's SpeakUp program, which provided a book truck.

The books, which Shoaf selected because they have "characters representing varied backgrounds and identities" and because they are "connected to New York City, especially the Bronx," include Lilliam Rivera's The Education of Margot Sanchez, Adam Silvera's They Both Die at the End, Jacqueline Woodson's After Tupac and D Foster and Tony Medina's I Am Alfonso Jones. Titles in English and Spanish are Paul Fleischman's Seedfolks (Semillas) and R.J. Palacio's Wonder (La Lección de August).