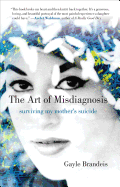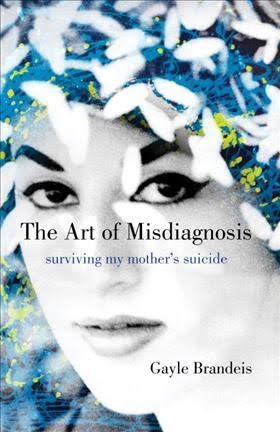 Novelist Gayle Brandeis turns a family tragedy into an act of reconciliation in her frank and moving memoir, The Art of Misdiagnosis.

Brandeis (The Book of Dead Birds) structures her memoir around her mother's suicide in 2009. Arlene hanged herself in a parking garage in Pasadena, Calif., just weeks after Brandeis had given birth to her youngest son, Asher. Recovering from the pregnancy and nursing her son, Brandeis was thrown into a surreal emotional state after the suicide, between extremes of life and death. In The Art of Misdiagnosis, she's able to approach the tragedy with writerly distance and perspective, delving into the complexities of her mother, her parents' marriage and her own childhood. Brandeis crafts a sympathetic portrait of a flawed yet enterprising woman who suffered from mental illness. Her mother was working on a documentary film about medical misdiagnosis at the time of her death, and excerpts from the script are included throughout the memoir.

Brandeis's narration alternates between first-person accounts of events and second-person missives to her mother. The latter ask the painful question of why; they're written with grief and exasperation but also tenderness. Other sections reveal an underlying desire to comprehend the suicide and begin healing. Brandeis relies on her novelistic skills to reconstruct her mother's story, as well as her own. She addresses a period in her adolescence when she used a misdiagnosed illness to garner attention, and connects the experience to her mother's eccentric personality and the way illness is perceived in the world, both as handicap and martyrdom.

Although Brandeis becomes an investigative journalist uncovering the facts of her mother's suicide--"I am looking for clues, for evidence. Answers"--she's also a poet (The Selfless Bliss of the Body) who imbues her experiences and discoveries with vivid lyricism. Describing how news of her mother's death shocked her, she writes of "An erasure of all that was once there. A void so blank, so white, one could almost mistake it for joy." Later, in the process of healing, she symbolizes the labile weight of inner grief: "Wet sand becomes a nest of wasps becomes water becomes anvil becomes a delicate soap bubble, iridescence swirling across its skin."

The Art of Misdiagnosis is a gripping and deeply felt memoir that demonstrates how the very act of writing can pull one from the depths of tragedy and toward the light of compassion. In the words of Arlene Baylen Brandeis herself, "all is preparation for love." --Scott Neuffer, writer, poet, editor of trampset

Shelf Talker: In this heart-twisting memoir, novelist and poet Gayle Brandeis grapples with her mother's suicide and her own infirmities.