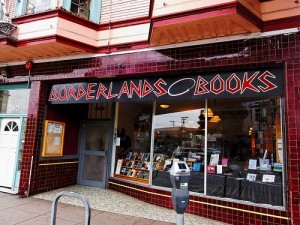 Borderlands, the San Francisco, Calif., science fiction, mystery and horror bookstore that nearly closed two and a half years ago, "has secured loans totaling $1.9 million from some 49 individual supporters who are willing to help the bookstore buy a building on Haight Street that will serve as its permanent home," Mission Local reported.
"I cannot tell you how happy and excited I am about this. It truly is a dream come true," owner Alan Beatts wrote to the bookstore's supporters.
The campaign had been launched earlier this month when Beatts, "unable to secure a large loan from a bank... put the question to Borderlands' clientele--would they be interested in funding the purchase for 1373 Haight St? They were. In 18 days, lenders put up $1.9 million," Mission Local noted.
"I learned that I'm the kind of person who can raise close to two million dollars in two and a half weeks, that was a surprise," Beatts said. "I also learned that, if you really want to achieve your goal, you have to pursue every single solution.... I think that we succeeded because we were clear on our goal and willing to consider any ethical way of accomplishing it."