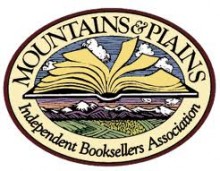 When school is in session at a book industry trade show, you have to choose from a menu of concurrent panels. That's a good thing. At the 2017 Mountains & Plains Independent Booksellers Association Fall Discovery Show, I did what I usually do--study the menu and make, well, educated selections of education sessions. I made excellent choices, but probably couldn't have gone wrong with any of the offerings.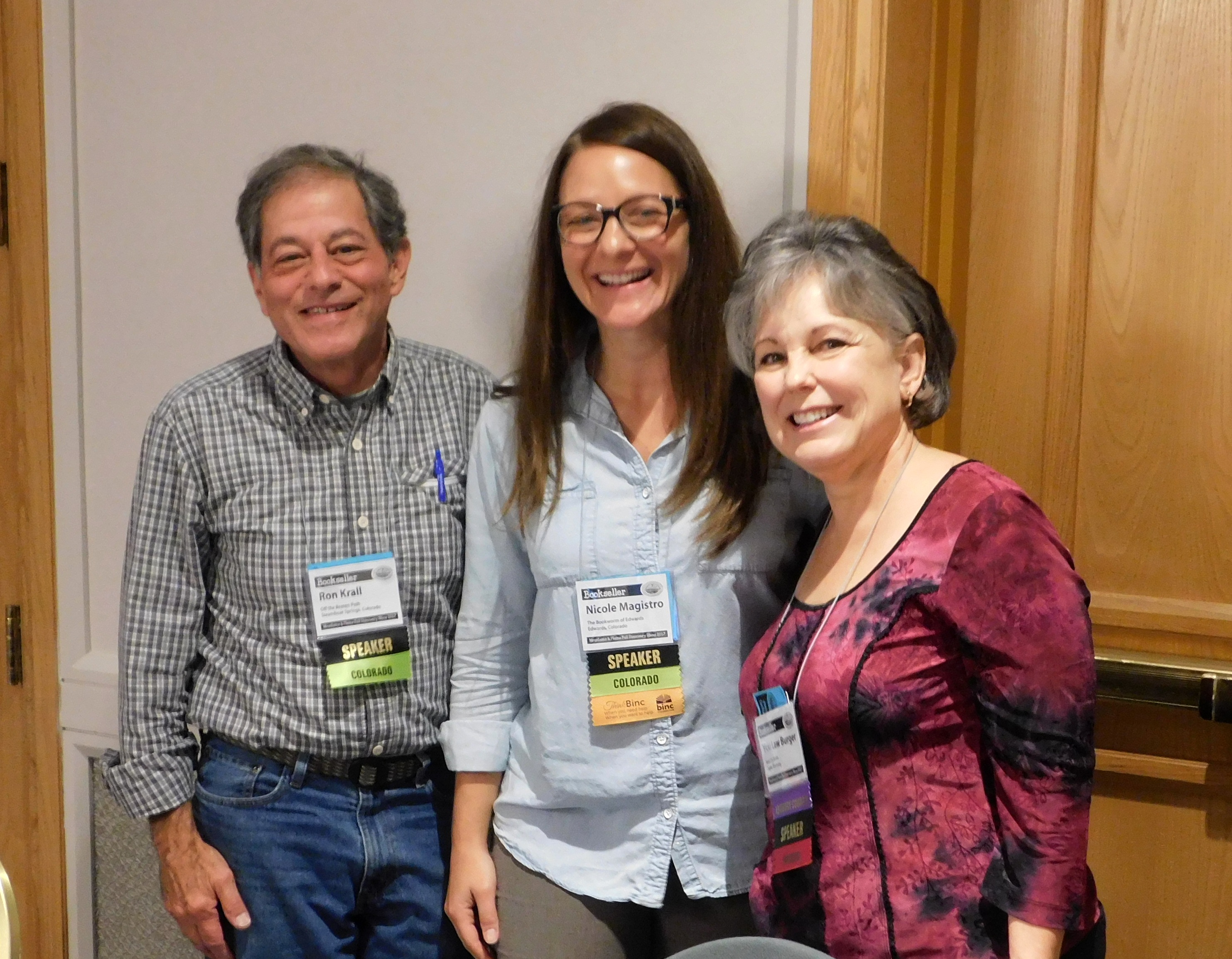 Ron Krall, Nicole Magistro & Vicki Burger
I was, as I often am, intrigued by food for thought, those quotable moments when big ideas are wrapped up neatly in a few sentences. A panel on "Back Office Operations" featured Nicole Magistro of the Bookworm of Edwards, Edwards, Colo.; Ron Krall of Off the Beaten Path, Steamboat Springs, Colo.; and Vicki Burger of Wind City Books, Casper, Wyo. They focused on financial operations, human resources and filing.
Or, as Krall noted in his opening remarks: "Okay folks, welcome to the most boring, most frustrating, most irritating topic of the whole Discovery Show. You're very brave. The reason I'm up here talking about this at all is that somewhere around five or six years ago I began to be aware of how much time and energy was being spent in doing what we're going to be talking about back office operations and beginning to wonder, Do we need to spend that much time and energy? And so over a bunch of years we worked to try to minimize these tasks."
He advised his colleagues to "spend a moment trying to think of how many hours a week you or your staff devote to those tasks.... Back office time is all the time you're not spending with customers. It's all time you're not doing activities that generate sales."
Magistro pointed out that they were "not discounting the other things that happen in the back office--buying, marketing, events management, anything like that that sometimes happens off the floor in some stores.... Those things are designed to be creating new sales, to be driving sales.... With the rising minimum wage issues, and with just in general living wage issues for our staff, the other way that you can think about this is not just as a savings to the owner or the bottom line of the store, but also to potential cash flow so that you can give more substantial raises."
Two questions were put forward to consider: For any task that is being done behind the scenes, does it need to be done at all? And if it does, how can you do it more efficiently?
"Being a small store, I don't have the luxury of having different people assigned different tasks like buyer, marketer, event manager," Burger said. "And some of the back office efficiencies I've learned I learned accidentally." She cited as an example a staff member who took it upon herself to bring order to Burger's admittedly borderline chaotic office practices. "Just being willing to take advantage of your employees in a sense really can make a huge difference, particularly if you're small like I am."
Magistro agreed, adding: "This doesn't mean eliminating people's jobs or eliminating hours, but instead it means optimizing and accepting that perhaps how it's being done right now is not necessarily the best way. And even if you do that, and you created that system, it's okay if somebody does it better."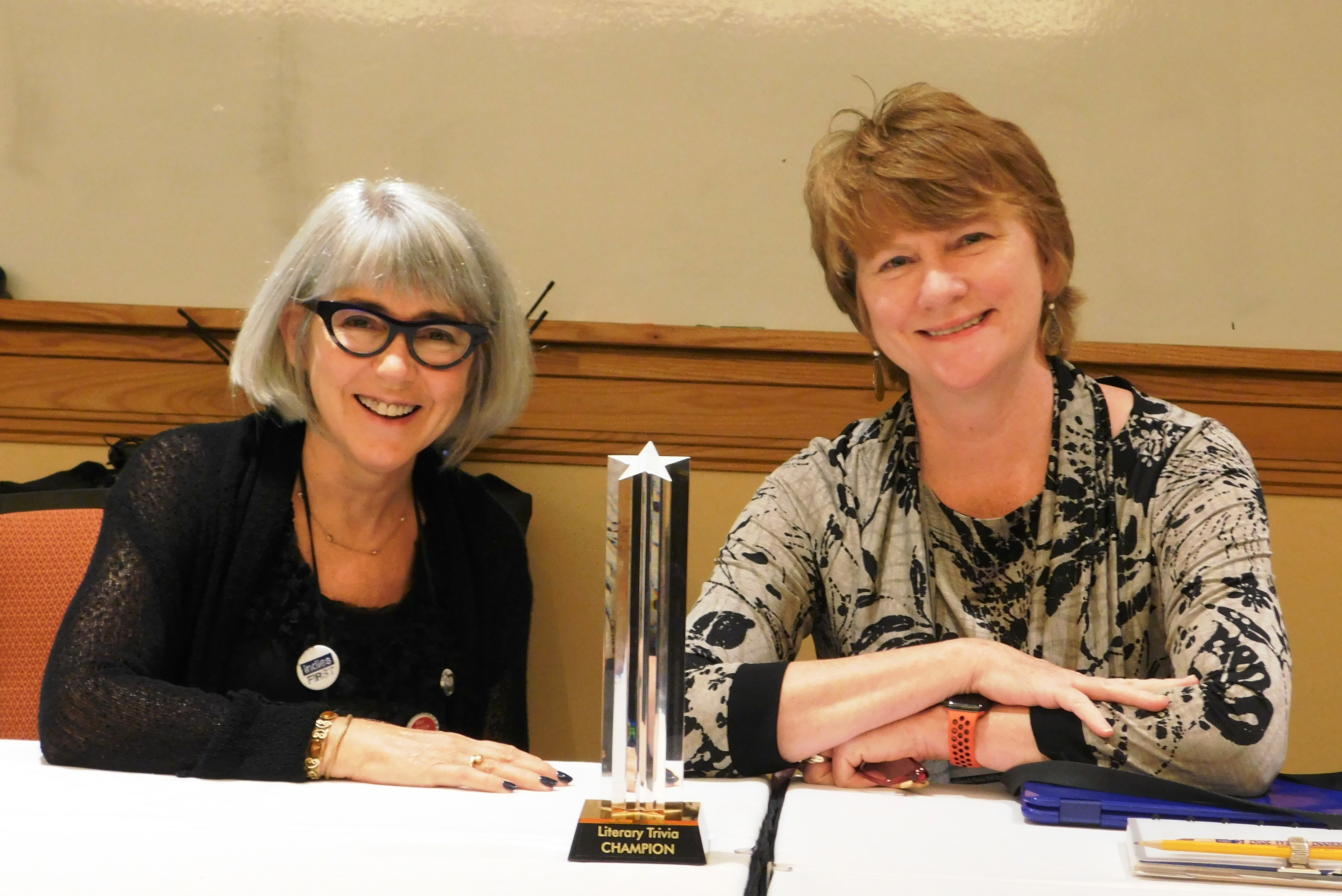 Joy Dallanegra-Sanger, Valerie Koehler & the Literary Trivia Championship trophy
The American Booksellers Association presented an informative "Maximizing Backlist" session at the regionals this fall. For the MPIBA show it was helmed by senior program officer Joy Dallanegra-Sanger and Valerie Koehler of Blue Willow Bookshop, Houston, Tex., who proudly displayed the Literary Trivia trophy won by the Texas team the previous night.
"You, too, can go home with this trophy if you take advantage of what you're going to learn today," Dallanegra-Sanger joked to open a session that explored important backlist title strategies, options and opportunities.
At one point, Koehler observed that "backlist is not just books that are a year old. For those of you who have strong children's departments, that's really where the backlist just shines because there's so much backlist in the children's department. And how many times can we sell Goodnight Moon? That's the beauty of the children's department is you have so many classics that never go away and that you always have on the shelf. And you can take advantage of those backlist offers to beef up your section."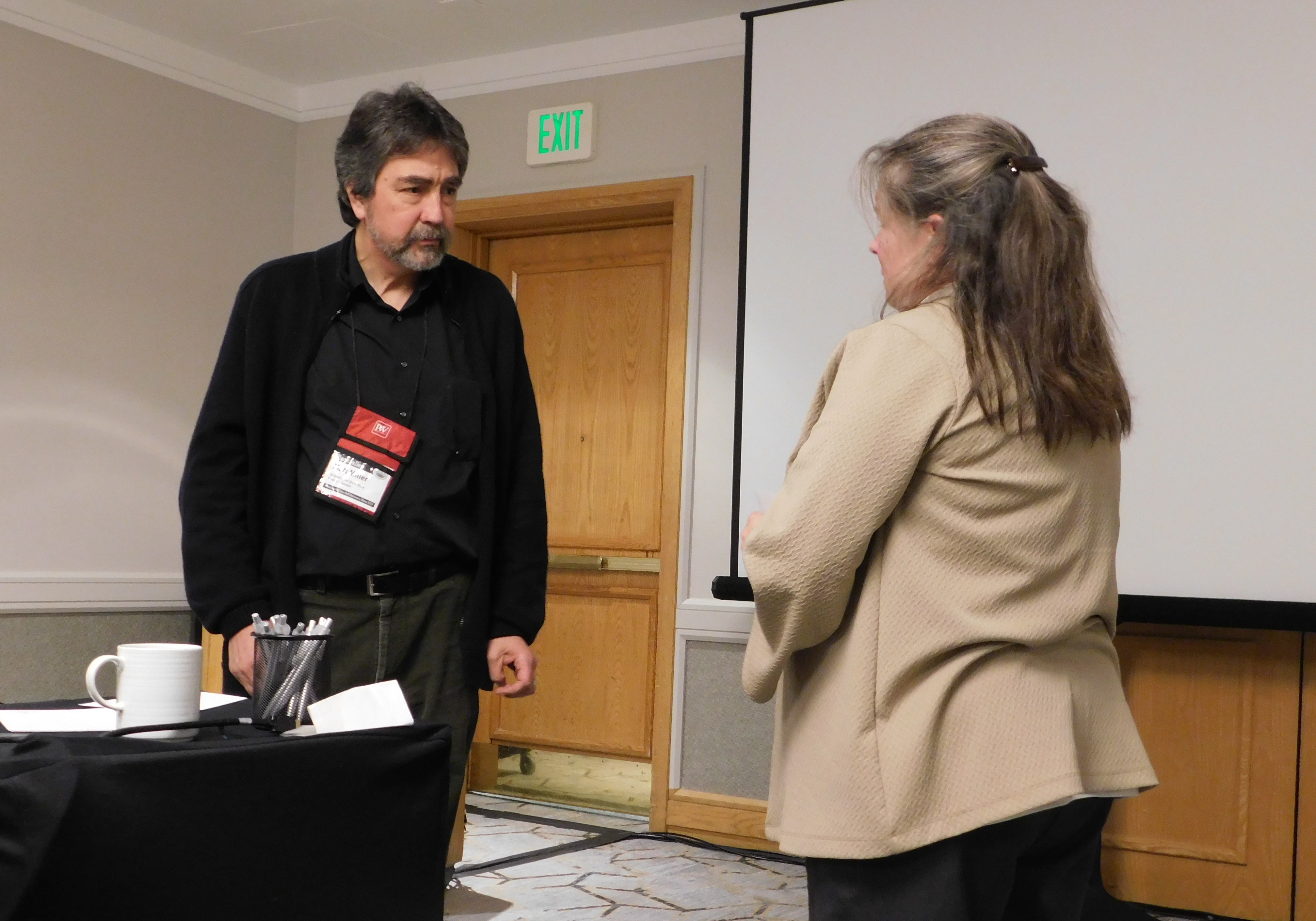 "Angry customer" Matt Miller of Denver's Tattered Cover Book Store "confronts" Anne Holman of the King's English Bookshop, Salt Lake City, Utah, during a lively session of Bookseller Improv: What You Want to Say vs. What You Should Say
After they showcased numerous examples of creative backlist store displays and promotions, Koehler advised: "When you go back to your stores, ask some of your newer booksellers what's something you loved 10 or 15 years ago... and maybe ask your booksellers, what were we selling 15 years ago that we really liked? Because now you have some new customers, you have some new booksellers, and you can all get excited about some of the backlist titles that you did sell."
One last note: If you have any doubts about the importance of that Literary Trivia trophy and the camaraderie/rivalry surrounding it, outgoing MPIBA board president Anne Holman of the King's English Bookshop, Salt Lake City, Utah, brought the subject up once again when she told me after the show: "Serving as the president of MPIBA for the past three years has been a pleasure and a privilege. Our membership is increasing, the winter catalogue sales are better than ever, and the booksellers seem to get younger and younger. My only sorrow is that Utah hasn't won the Literary Trivia contest in the last six years."
For the record, I was on the losing Texas team in 2016 and the Utah team in 2017. Maybe... it's me. Food for thought.